April 2 2014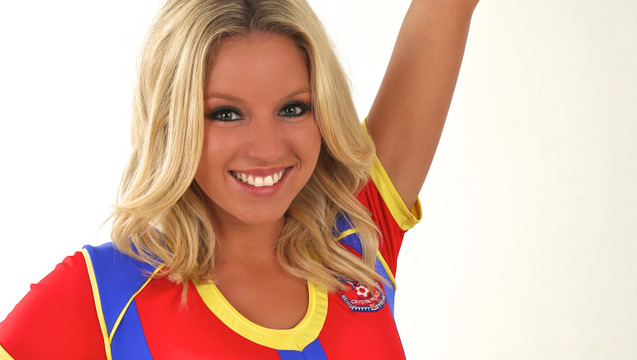 We feature Palace Crystal Abbie in our spotlight on Crystal Palace's cheerleaders.
Name: Abbie Lomax.
Age: 23.
Live: Coulsdon.
Job: Directorís PA.
My nickname... I don't really have one, everyone calls me Abs, but one of my best friends from dancing used to call me Babs since I was about three, ha!
My ideal holiday destination is relaxing in the sun, with clear water so somewhere like the Maldives. I also want to go to LA, San Francisco, Vegas, New York and Florida!
The animal Iíd beat in an arm wrestle would be a zebra.
My ideal party... I have a huge family so I would say a family party is always the best, get everyone together, a bbq is always good. I had a kids party for my 21st (few years back now) and I had jelly and ice cream, bouncy castle, pick'n'mix, which was great fun.
My cooking specialty is pasta. Itís just easy to add sauces and ingredients.
What I love about being in the Crystals is meeting the girls, training, learning new routines Ė I love it.
I'm not sure I have a hidden talent, although I'm double jointed in my arms but that's not really a talent. I learned to read music when I was five, I guess that's a talent but not an interesting one, ha!
The longest to get ready is Izzy.
The funniest moment was when they forgot to turn the sprinkler off and everyone got soaked. It was hilarious!
I havenít got a karaoke song as Iím too shy for it.
If I won the lottery, Iíd go on holiday with my family. Iíd get a house, buy my mum and dad one and share the rest with my family.
X Factor or Strictly
X Factor
Scrabble or Twister
Twister
Paris or Vegas
Paris
Chips or chocolate
Chocolate
Sunbathe or skydive
Sunbathe
Pint or glass of wine
Pint
Find out more about the other Crystals
Photos © copyright Ramzi Musallam/Holmesdale Online.
Thanks to our friends at Picture Partnership, in Shirley, for their kind support.