October 10 2001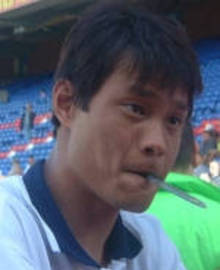 Blackburn, Everton and Fulham have all expressed an interest in transfer-listed Fan Zhiyi.
Palace have recently been in discussions with Dundee about a possible transfer, but the 32-year-old Chinaman is hoping for a move to the Premiership.
Fan said: "There has been interest from Dundee, Fulham and Blackburn, while Everton have been in touch with my agent.
"Things hadn't been going well for me at Palace. There has been trouble about the amount of games I have been playing for China, so it's best for me to move on.
"I'll have missed 14 games by the time I get back to England.
"I understand their position, but China haven't qualified for the World Cup in 44 years of trying. I tried to tell Palace how important this is to me.
"I'm hopeful of making a new start in Scotland, and I look forward to the new challenge at Dundee."