October 15 2001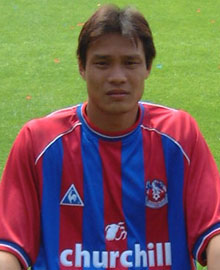 Chinese international Fan Zhiyi has signed for Scottish Premier League side Dundee FC for £300,000.
The defender helped his country qualify for next year's World Cup finals in Japan and Korea last weekend.
A Dundee spokesman said: "Dundee Football Club is delighted to confirm that Chinese international defender Fan Zhiyi has signed for the club.
"The player who has previously been with Crystal Palace put pen to paper at the end of negotiations that have taken place over the weekend in China.
"The club are now seeking relevant paperwork that will provide the player with clearance to play.
"As with any deal the terms of the contract remain a private matter between the two parties concerned."
Fan was out of favour at Crystal Palace after he told Chairman Simon Jordan and manager Steve Bruce that he would be away on international duty for three months.
The Chinaman only played two games for The Eagles this season before travelling to Asia to play World Cup qualifiers for his country.