October 16 2001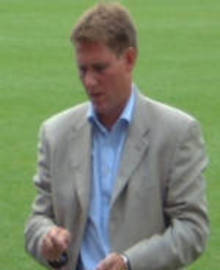 Chairman Simon Jordan has dismissed rumours that Steve Bruce will take over from Trevor Francis, who left Birmingham City by mutual consent.
Bruce played for Birmingham after quitting Manchester United and has been linked with a return to St Andrews.
Francis left the Blues by mutual consent on Monday, but chairman David Gold could appoint someone from within the club.
Jordan said: "Steve is happy here and the chances of him ever going to St Andrews are a million-to-one against."
Bruce has had a good start to his career at Selhurst Park, with the Eagles currently in lying fourth place in Division One.