May 7 2015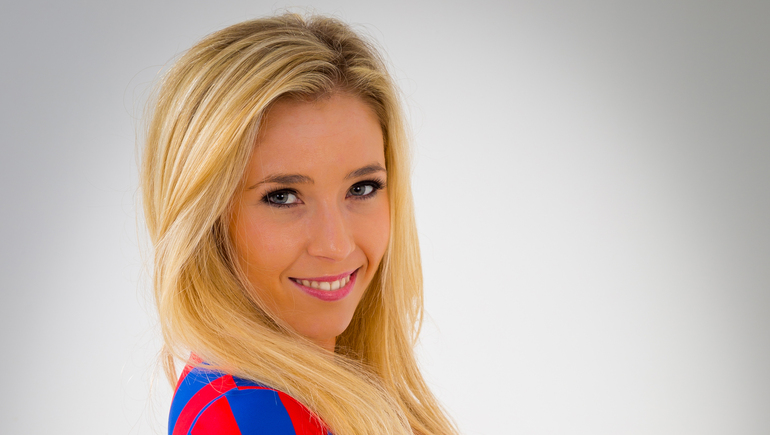 This week's Crystal Girl is Charlie, as we give you the lowdown on Palace's cheerleaders.
Name: Charlie.
Age: 21.
Hometown: Crowborough.
Occupation: I am a PA, in central London.
Nickname: Charlie and then since I was a little girl my parents and my family have always called me Charlie Farlie, or Charlie Girl.
Dance background and experience: I started dancing when I was two and a half. I did it for quite a while and then I got a health problems when I was a young teenager and I had to stop for quite a few years.
So I wanted to do acting, and all this, that's my ambition. I sort of missed that, you know about that crucial gap, I kind of missed that and then I started again now.
Words to live by/favourite quote: What goes around, comes around. And everything happens for a reason. I believe in them both so much.
Five words that describe you: Bubbly, happy, caring, ambitious, hyper.
One thing most people would be surprised to learn is: I'm saving up to try and start my own company in a few years, so I'm trying to get my own experience to do that in the future.
Biggest fear: Losing my family. I'm not so much scared of things, it's just I'm really family focused.
What would be your superpower? Invisibility.
Most embarrassing moment: Oh god, the girls will laugh at this. It the other week actually, I ran into a glass door, full pelt, ran, and then I've been sort of in and out of hospital for two weeks, due to concussion. Yeah so it was really bad!
Dream job: Realistically I'd like to be a cheerleader all the time, then I also would be a private PA and do that full time.
Dream holiday destination: Australia.
Why did you decide to audition for the Crystals? I got injured doing competitive cheer and I really wanted to do the dance stuff.
And then heard about the Crystals and I thought that sounds like a perfect thing and that's kind of how I got into it. And ah, it's been amazing since you do so many different things all the time.
What are some of your Crystals highlights? First game because I'd done jobs with another agency and then when you go onto the pitch at Selhurst Park, it's completely different because everyone's so friendly and welcoming and the fans really loving.
They all come up to you and they're like, "How's your day been?" It is a family atmosphere. They say it's a family club and it's so true.
Favorites:
Former player: Kevin Phillips. He scored 'the' goal.
Movie: Saving Mr Bank's.
Article of clothing: I love like a massive, big jumpers in winter to cuddle up in cos I get so cold.
Phone app: I got addicted to Jelly Snatch.
Cartoon character: Tinkerbell.
TV show: Geordie Shore.
Ice cream: Ben & Jerry's half baked.
Junk food weakness: The Chicago Town, deep pan, pepperoni pizza. Has to be stuffed crust.
Find out more about the Crystals
Photos © copyright Ramzi Musallam/Holmesdale Online.
Thanks to the Holmesdale Online's photographic partner and much valued supporter Picture Partnership in Shirley. For your photographic needs please visit or contact Picture Partnership in Shirley.
Tell them you are a Holmesdale Online member and you will qualify for a discount or special offer!