May 20 2015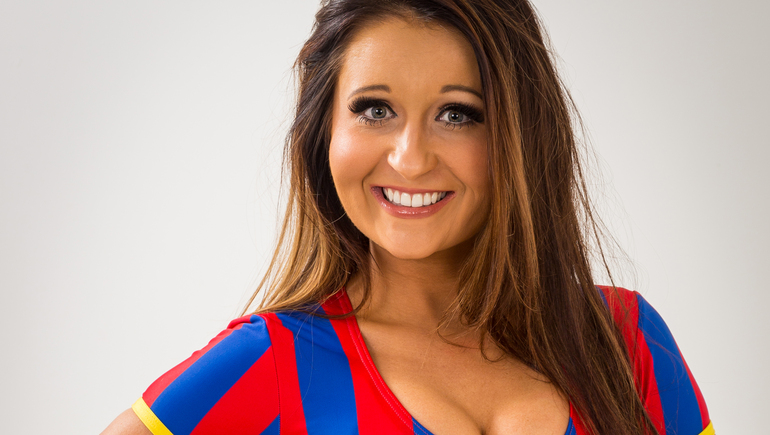 We continue our focus on the Crystal Girls and this week we have Kimberley!
Name: Kimberley.
Age: 24.
Hometown: In a little village near Hastings.
Occupation: Dance teacher.
Nickname: Kimbo.
Dance background and experience: Iíve danced and sang from a young age. I got a scholarship at Len Goodmanís academy to do my teaching degree. Iím a qualified exercise, music instructor, Zumba instructor, Iíve got my own cheerleading squad with 35 girls and I teach around a 120 girls per week. So Iíve got my own dance teaching business. Iíve done quite a few music videos, I was in Street Dance the movie. I was in Miss England this year and I also did Face of The World and came top 15 against international competitors in Paris, and I got to perform and sing on stage in Disneyland Paris.
Words to live by/favourite quote: ? If itís not broke, donít fix it.
Five words that describe you: Ambitious, caring, conscientious, outgoing, energetic.
One thing most people would be surprised to learn is: I saved two toddlers from a house fire in March this year. I was driving home from work and I saw smoke coming out of a house, and nobody had stopped. So I pulled my Mini into the side, threw open my door and went to the front door to see the lady's hands trying to get out. It's in the local paper and everything, and I managed to push my way through the door and she kind of grabbed hold of my waist and I grabbed the two kids and we got out, and thenÖ but the cat died. Yeah and Iím a cat lover. I dis first aid to them until the ambulance arrived. It was a very traumatic day but after that I fundraised within my local area cos they had no house to give them blankets and toys.
Biggest fear: Losing somebody I love.
What would be your superpower? To be able to read peopleís minds.
Most embarrassing moment: When I was teaching a dance class, Iíd just taken one of my dance hoodies out of the tumble dryer, and Iíd left my underwear in the hoodie. It was a parent's teaching performance and when I lifted my arms, my knickers went flying over the other side of the room, and a teacher assistant did like an army roll and scooped them up in her handbag and gave them to me at the end.
Dream job: What Iím doing with the Crystals. I love it.
Dream holiday destination: Thailand.
Why did you decide to audition for the Crystals? Iíd already done some work for Komani through Kim Fletcher. We competed against each other, well we were together in Miss England. We got through to finals together and we just got on really well and she was like, ĎYouíd be perfect to go forward for the Crystals, if you like, you know youíve done a lot of professional performance.í Music videos, and films and things and she said, ĎWhy donít you go for it?í So I was already working for Komani, did a few events, and then went for the audition and got through.
What are some of your Crystals highlights? Thereís been lots. The calendarshoot was a lot of fun with the girls and that was quite an eye-opening experience and I got to shoot with Bronia, in the calendar. Doing everything on Sky Sports, it's been great. Iíve met a whole new group of friends that actually share an interest which is really nice. It's great that every week you get to see a lovely bunch of girls.
Favourites:
Former player: Dean Moxey.
Movie: Free Willy.
Article of clothing: My Michael Kors ear muffs.
Phone app: Instagram.
Cartoon character: Jessica Rabbit.
TV show: Friends.
Ice cream: Ben & Jerrys cookie dough.
Junk food weakness: Dominoís pizza.
Find out more about the Crystals
Photos © copyright Ramzi Musallam/Holmesdale Online.
Thanks to the Holmesdale Onlineís photographic partner and much valued supporter Picture Partnership in Shirley. For your photographic needs please visit or contact Picture Partnership in Shirley. Tell them you are a Holmesdale Online member and you will qualify for a discount or special offer!