October 25 2001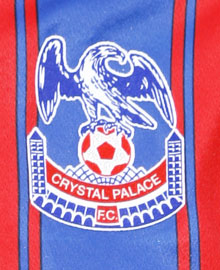 The latest Fans Forum took place tonight, with Terry Bullivant and Dougie Freedman taking the questions from the audience. HOL's 'roving' reporter Marco Macchieraldo gives his summary of the evening's events.
Terry Bullivant was the first guest to be put under the spotlight.
Most important bit of news was regarding Jamie Pollock. Pollock has been SUSPENDED by Palace and is no longer allowed to train with the club.
This is due to him being overweight, he currently weighs 14.4 stone and Bullivant said "that even makes me look good" (or something along those lines).
Apparently when Bruce arrived the slate was wiped clean and Pollock was given a fresh chance, however he didn't put the effort in and gained a lot of weight and now is not fit enough to play.
Bullivant announced that Middlesborough have rejected an offer from Palace to extend Steve Vickers loan deal for another month and now its up to Vickers whether he wants to sign for Palace or not.
From the sound of it Vickers won't be playing on Sunday with Berhalter likely to be his replacement in central defence.
Bullivant also spoke about players going out on loan, as it was either a chance to get some first team experience or with a view to the team possibly signing them.
Last season, Chris Sharpling was meant to be getting first team football, however Palace got a £60k bid so they accepted it and he left.
A question from a fan asked about the typical training week. Bullivant said that the real training was done in pre-season and no real training was done during the week, mainly due to international games and the number of league and cup games.
Practicing free kicks and corners is done once a week, and the coaches and Bruce do a lot of scouting on other teams so to watch how other teams play.
He also mentionned going to watch the under-17's because they play just round the corner from his house and he wanted to get out of the house.
Said that the combination league is a very poor level compared to what it was and its hard for players to improve playing for the reserves.
Dougie Freedman was the second guest up on the stage.
He spoke about his first spell at Selhurst Park and admitted it was a mistake going to Wolves.
He said that Ron Noades told him one day that Wolves had made a bid for him and he'd accepted it and it was up to him whether he wanted to talk to Wolves or not.
Having not featured regularly and with Hoppo having left to go to Leeds he decided to leave too, a decision which he regretted.
Dougie spoke very highly of Clinton Morrison, saying that he is a very good striker with a big future ahead of him.
He admitted that they weren't best friends of the field but when they get on the pitch something just magically clicks.
Freedman also mentionned his debut for Scotland. He mentionned talking to Kolinko on the Friday and telling Alex to watch out for him.
He said that he had no idea that Craig Brown was going to resign, and although the mood in the Scotland camp was very glum he thought that was just normal...
One possibly worrying factor was the lack of knowledge that both guests had when asked about Steve Bruce leaving.
Freedman said that as far as he was concerned Bruce was the manager and until Palace no longer have a manager than only then should we worry and discuss the issue.
Bullivant confirmed that Bruce has never told the players or coaching staff that he would not leave and also has never said he will leave either.
Considering the high level of publicity that this matter has had in the national press it is strange that Bruce has not spoken about it, either confirming or denying the rumours, to his players and coaching staff.