August 24 2015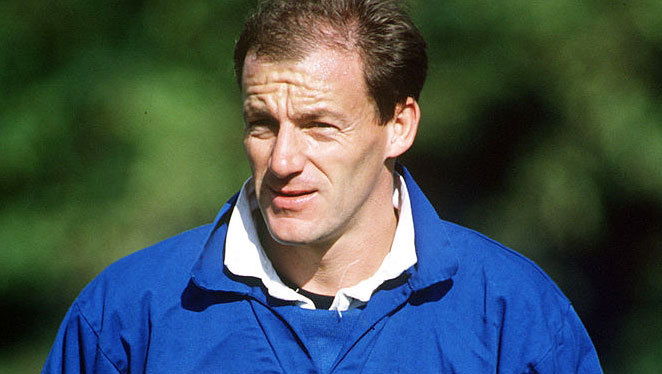 Mention the word 'Shrewsbury' to any Crystal Palace supporter who attended matches in the 80s and they'll most likely glaze over and mutter quietly into their pint, "Bloody Shrewsbury!" writes Mike Angell.
What is it about this unassuming team from Shropshire that could make a grown man cry? Well bogey team doesn't come close – Shrewsbury were more our triple bogey team.
Having been relegated from the top flight in 1980/81 and seen Terry Venables leave for QPR, breaking up the Team of the Eighties on his way, Palace started 1981/82 with Dario Gradi in charge.
A mixture of heroes such as Jim Cannon, Vince Hilaire, Paul Hinshelwood, Billy Gilbert, Ian Walsh and Jerry Murphy lined up with their less talented teammates – David Price, Tommy Langley, Billy Hughes, Brian Bason and Steve Wicks.
Palace started the season with three wins and three losses, before facing Shrewsbury at the end of September. A crowd of 9,037 watched us lose 1-0 and the die was cast. Steve Kember took over from the hapless Gradi in November, and by the time we faced the Shrews again at the start of May, we were hovering above the relegation zone.
An inevitable 1-0 defeat followed, but a couple of wins against Cardiff and Wrexham led to us finishing in 15th – just four points from the drop. Shrewsbury finished in 18th and two points from relegation.
Season 1982/83 saw chairman Ron Noades make the spectacularly unpopular decision to appoint arch nemesis Alan Mullery as our manager. After two early draws, Mullery faced Shrewsbury and a crowd of just 6,578 was in attendance as we won 2-1 with goals from Kevin Mabbutt and Hilaire (below).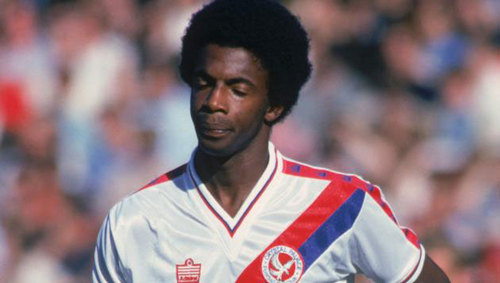 Although the season petered out and Palace finished 15th, we drew at Gay Meadow in February against a Shrewsbury side who finished 9th. Jinx broken… Surely?
The following season had Mullery continue his unpopular reign and manage two 1-1 draws with Shrewsbury – the enthusiastic Stan Cummins and terrace villain Gary Stebbing netting the goals. Palace finished 18th and the Shrews 8th.
The arrival of The Messiah – a 28-year-old Steve Coppell who brought in 80s legend Alan Irvine, popular left-back Brian Sparrow and the much-maligned Trevor Aylott and Tony Mahoney (Coppell did get better, honest.)
Unfortunately for Sir Steve, Shrewsbury away was the second game of the season and we got hammered 4-1 with Sparrow netting for the Eagles. The return fixture came as early as November and a pitiful crowd of 4,002 witnessed Mahoney (really?) and Murphy net in a 2-2 draw. Palace finished back in their familiar 15th spot with Shrewsbury again finishing 8th.
The 1985/86 season was the start of Coppell's genius as we finished in the top six. Palace fans knew we were in for a good year when we beat Shrewsbury in the opening match away from home with Phil Barber and Andy Gray – who were to finish top scorers with nine and 10 goals respectively – on the scoresheet.
The reverse fixture came after a fine run of four wins and a draw – Aylott (below) had netted twice away at Hull in the preceding fixture (I'm not making this up).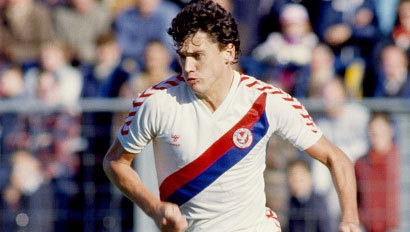 A reasonable crowd of 8,253 sensed a victory and turned up in expectant mood. Even with Ian Wright as the lone substitute, Palace managed to lose 1-0 – Shrewsbury ended the season 17th as their fortunes started to take a turn for the worse.
The season 1986/87 had started well with three wins in a row. Wright was now starting at number 10 and would be joined by Mark Bright in November.
However the home game against Shrewsbury came in October, and despite Wright and Tony Finnigan scoring, Palace lost 3-2 in the middle of a five-game losing streak. A crowd of just 4,865 suffering 'The Curse'.
Palace finished sixth and Shrewsbury continued to flirt with relegation in 18th spot – Brighton finishing bottom to drop to the third tier for a season.
The next year had Geoff Thomas and John Salako in the starting line-up but they couldn't turn the tide as Palace lost 2-0 to Shrewsbury in the October away fixture. By the time the home fixture came around, Perry Suckling had replaced George Wood (below) in goal and 'Supa' Alan Pardew was part of the squad.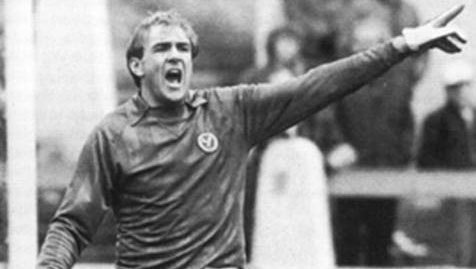 A Neil Redfearn penalty wasn't enough and a crowd of 8,210 watched Palace slip to a 2-1 defeat – eventually finishing 6th whilst the Shrews were once again 18th.
The incredible 1988/89 season started slowly with five draws and a defeat. One of the early draws was Shrewsbury at home (attendance 7,006). Wright scored one of his 24 league goals but Palace couldn't get the three points.
An incredible end-of-season charge gleaned only two defeats in the final 16 games – 1-0 away to Swindon… and a 2-1 loss at Shrewsbury – despite the mercurial Dave Madden scoring one of his six goals.
Palace of course had the last laugh – finishing third and winning promotion via the play-offs. Shrewsbury? Well they finished 22nd and were relegated.
So the 80s saw Palace win just twice against Shrewsbury. While many of the younger generation will see the Capital One Cup draw as an easy route to the next round, those who witnessed 'that' decade will be expecting a 1-0 defeat.
Bloody Shrewsbury!