September 9 2015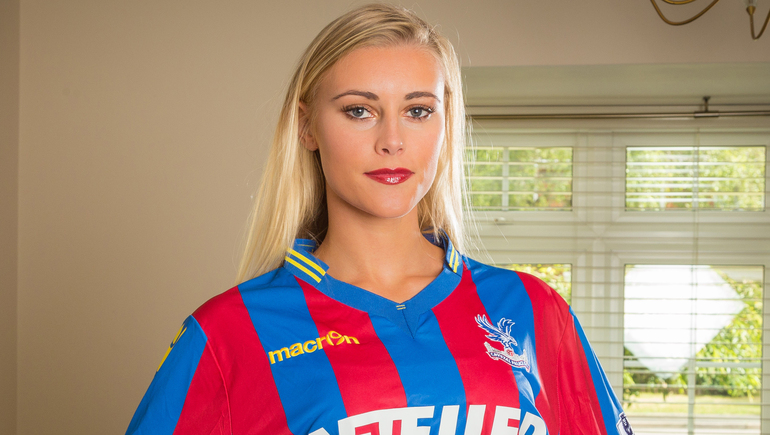 If you think you think you've seen Kirsty Shelts before you are probably right, writes Ramzi Musallam.
Last autumn she almost became the face of Crystal Palace TV but narrowly lost out to Chris Grierson.
But it was not all bad news as Kirsty has been kept busy with other broadcasting demands and is set to cover the forthcoming Rugby World Cup for a top broadcaster.
So with just over a year having elapsed since gaining her first class degree in broadcast journalism, she is gaining some high-profile experience and making real headway in her career. Clearly she is going places!
We met with Kirsty in the summer and she was looking forward to the new season, particularly as she is set to be in front of the camera for a large part of it.
Kirsty comes from a sporting family and from the age of 10 was a competitive swimmer, waking at 4am most days to swim before school.
She has also played golf, tennis (at county level), and at the age of 15 was in the national squad for biathlon. In fact her first experience of broadcasting was when she went in to studio to be interviewed by the BBC when she was in the top 10 of athletes.
At Riddlesdown School she was sports captain and some of her contemporaries included Arsenalís Kieran Gibbs and the UK discuss thrower Lawrence Okoye who now plays in the NFL at the San Francisco 49ers.
Kirsty is also an experienced broadcaster having started at 18 when she began her degree in broadcast journalism and took her first Sky TV screen test for the local rugby club.
She has overcome her initial nerves and now feels confident in front of the camera as well as behind the scenes. However, she still participates in sport and is planning a cross-Channel swim when she can fit it in her busy schedule.
Asked about people that have inspired her she is quick to highlight the importance of her parents on her career and the help and advice her Dad has given her in particular.
Another role model is Kirsty Gallagher, with whom Kirsty has worked, noting that she has undertaken a lot of charitable work that goes unnoticed and that is something that Kirsty would like to emulate, particularly since working on the Paralympics with Channel 4.
Another key influence has been the BT Sport presenter Caroline Pearce, who has just moved to Fox Sports in the US. The two of them worked together on a home shopping channel selling sports gear when Kirsty was 19.
Kirsty noted that Caroline had really encouraged her and given her confidence to realise her ambition. Kirsty also noted that Clare Balding is a great role model, having been a sports woman but also proving to be really natural in front of the camera.
Quick-fire questions
Best experience at Palace: It's got to be when I was on the pitch with Mark Bright last year.
Favourite Palace player: Probably this year it's going to be Yohan Cabaye!, but previously Iíve really liked Julian Speroni.
I think he's got a really nice manner about him. For me he is very professional both on and off the pitch, he seems very nice and you can tell he's very passionate about what he does.
Favourite Palace match youíve been to: I actually really enjoyed Speroni's testimonial Ė the whole atmosphere was a real buzz! And seeing Alan Pardew on the pitch was something I wonít forget!
Favourite band? I went to Glastonbury and Paloma Faith was my favourite there, she has so much energy! Florence and the Machine was good and Lionel Richie was excellent too.
Favourite TV programme? I like Soccer AM. The banter is really entertaining!
Kirsty's Photo Gallery