November 2 2015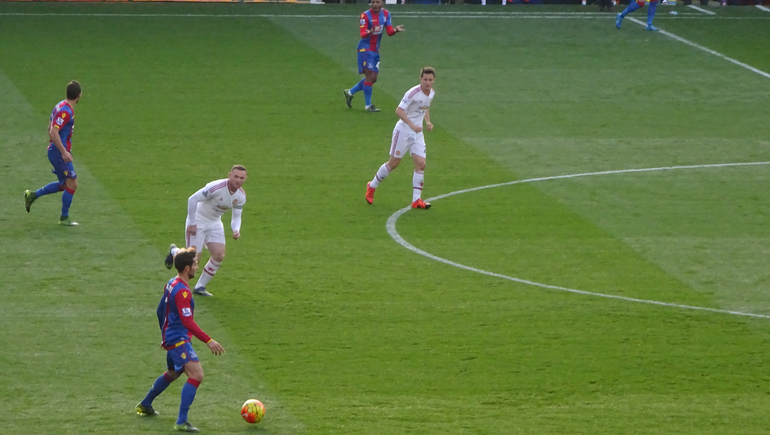 If 0-0 football matches were won on points like boxing bouts, Crystal Palace would have vanquished Manchester United, according to Jamesey.
Manchester United are not widely liked by many football supporters in their home country.
Could it be envy of their undoubted success under a former long-serving and excellent manager?
Or possibly might it be the myriad glory-hunters who "support" the Reds from their sofas or pub venues who have never actually been inside Old Trafford and have absolutely no links with the north-west of England?
Despite these factors, this supporter always feels a tinge of pride in being an Eagles fan when the Red Devils come to Selhurst.
After many decades of lower division anonymity in SE25, when Manchester United run out onto the Selhurst turf it illustrates that CPFC are definitely in the big time however precarious that position might be.
On a blindingly sun-lit Halloween (Oct 31) (sunglasses to the fore in the Arthur Wait) the stadium was packed to the gunwales for one of the star-studded fixtures of the season.
Like many Palace supporters your columnist was apprehensive over our current slump in form.
Losing two Pilesodosh League games to West Ham and Leicester was hard but being well and truly stuffed 5-1 away to Manchester City in the league cup was very unpleasant indeed.
It was important to stop the rot and who better to be the rot-stoppers than Man U.
The Lancashire team despite their decent league position have had their problems too.
Captain Wayne Rooney's ineffectual performances and manager Louis Van Gaal's tactical nous, or lack of it, have been among criticisms from their supporters.
As the game went on, chants of "We want to attack" were just about audible above the ear-splitting Palace noise.
It seemed to be very much a case of Manchester Divided rather than United regarding manager and supporters.
As for the matter in hand, the Palace faithful were soon reassured that the home side meant business by the manner in which they tore into the White-clad Reds in the first quarter.
Yannick Bolasie hit the woodwork and the red-and-blues menaced the opposition goal, regrettably with no end-product.
Possibly the best chance for the visitors was a when a defence-splitting pass put Wayne Rooney through and only quick-thinking from keeper Wayne Hennessey and a slight scuff from the captain kept him out.
In the second period Palace looked the superior team and Yohan Cabaye should really have scored with the Eagles' best opportunity but screwed the ball wide.
And so the game ended with a 0-0 draw but Alan Pardew probably echoed most home fans' thoughts, saying "We perhaps deserved the three but we'll take the point."
Incidentally, after my experience at the last home game I was wary about taking any pictures while the game was in progress.
Having been threatened with possible eviction from Selhurst Park if I persisted in taking photographs of actual play, I decided to carry on regardless, albeit rather more discreetly.
To my relief officialdom appeared to have no interest on this occasion and so, dear readers, I was back in business although at some personal risk!
I am delighted to be able to provide a photo of the game to top this column and I trust you are all duly grateful.
---
Email Jamesey with your comments to jevans3704@aol.com
In Depth Jamesey's Veteran View Index