November 4 2001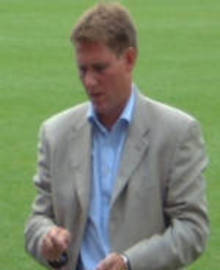 Crystal Palace supremo Simon Jordan said that he is ready to allow Steve Bruce to leave Selhurst Park and become the new Birmingham manager but only on the South London club's terms.
Jordan told BBC Radio Five Live: "Bruce can go but only on our terms."
The Palace chairman said that he would not be a "hypocrite" and he would not approach a replacement for Bruce if that man was already manager at another club.
He said: "I can't shout foul and then go and do the same thing. I won't go out and do the same thing. I will wait until the right man becomes available."
"I have to make sure my management staff are not taken and my players are not taken," he explained.
"I have a football club I have spent £21m on," said Jordan.
"I have a brilliant squad of players, I have a brilliant management staff we have spent a lot of time putting together. I am not going to let anyone jeopardise that.
"Until I get the right person in who accepts the same attitude as Steve Bruce did in the short term and wants Steve Kember and Terry Bullivant things will stay as they are."