February 14 2016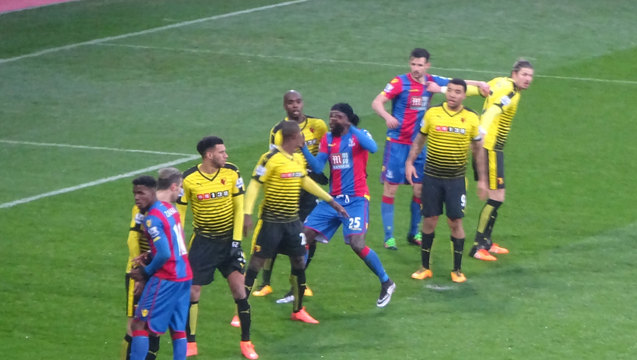 Another sell-out crowd came to Selhurst for the Watford game... results have been awful but the fans keep faith. Jamesey joined them.
Any reader expecting optimism and never-say-die in this column after our 1-2 defeat to Watford (Feb 13) had better stop reading now.
As a longstanding and sometimes long-suffering Palace supporter, I have learned to face adversity with a smile, often resembling a grimace.
But performances in 2016 have been very worrying indeed.
On Boxing Day, after a 0-0 draw with Bournemouth, we were in 5th place in the Bagsomoulah league, absolutely safe from relegation and even looking good for a spot in the top six. Well that's what we thought at the time.
After a 0-3 defeat at the hands of Chelsea on Jan 3, there followed a disastrous league run of six losses and one draw, leaving the Eagles at 13th place and 8 points above the relegation zone.
Naturally we knew we might struggle in early 2016 with injuries and suspensions and as sure as night follows day, this has happened.
But even losing key players at times hardly explains the total collapse in the past couple of months.
We are all familiar with the phrase "game of two halves" but a "season of two halves" is unfamiliar territory to this supporter although in six decades my memory could be playing tricks.
With 12 games to go, Alan Pardew must find ways to get the team to actually win a game.
The sad fact is that we looked pretty effective in the first quarter of an hour until one of the most unlikely penalties for Watford seemed to drain us of confidence after Troy Deeney slotted the ball past Wayne Hennessey in front of the passionate Holmesdale end.
The Eagles had chances and on the cusp of half time Emmanuel Adebayor's looping header found its way over Heurelho Gomes's grasp into the Hornets' net.
And there it was, something that has become a rarity in Palace games, a striker actually scoring a goal. The match stood at 1-1.
Apparently Ade's wages are in the region of £100,000pa, split between CPFC and Tottenham.
I have just renewed my season ticket in the Arthur Wait (possibly a rash act at my age!) and as a senior concession and with an early purchase discount, it cost me £234.50.
Even the most diabolical whinger could hardy complain at that price.
My maths have never been a strong point but I worked it out that if Ade played a reasonable number of games in a full year I would have bought 12 minutes of his valuable time. Sure puts football salaries into perspective, doesn't it?
Admittedly there has been good progress in the FA Cup although a tricky trip to White Hart Lane comes soon.
Sadly it has never been more essential to stay in the Evenmorebillions League in order to pay for the projected and vital improvements to Selhurst Park out of the 2016-17 TV shareout.
The executive washroom in SE25 must contain enough piles of bricks to build a substantial housing estate!
Selhurst Park has a great nostalgic appeal to fans of my vintage. I would hate to see it become sanitised and characterless but it is desperately in need of modernisation to conform to top club status.
When I indulge in one of my favourite pastimes, the cinema, I don't expect to experience a projectionist, a flickering screen and an usherette selling cigarettes and ice creams from her tray before the main movie.
Times change and football must keep up with them.
It would be appalling if this golden chance of copping all that extra cash to achieve it was missed.
Excuse my digression, but as far as the second half is concerned, the home side looked far better and the arrival of substitute Chung-yong Lee made a difference.
WILFRIED ZAHA played his heart out as ever and was fouled from earhole to breakfast time as usual.
Adebayor looked good and hopefully will start to hit real form soon but I do wish that Joel Ward wouldn't resort to hoofing the ball out of defence straight to our opponents. That is real Fourth Division stuff and unworthy of a supposed top flight outfit.
However, Watford are a good side (or do we make not-so-good teams look good at the moment?). They seized their chance and Troy Deeney added his second in the 82nd minute and won the game for the Hornets.
It was sporting of the home crowd to give Palace Old Boy Ben Watson a rousing welcome although as he played such an important part in our defeat, a little less enthusiasm might have been a better option.
Shortly after kick-off, the crowd behind me in the upper Arthur started to sing "Did you cry at Wemberley?" - a reference, of course, to our play-offs final victory against Watford in 2013.
I groaned at this blatant gloating and sure enough we were kicked where it hurts at our presumption.
Please, Palace, let's turn it round soon and not let an alternative chant, "Did you cry at Selhurst Park?" emanate from the away supporters' area for the rest of the season.
---
Email Jamesey with your comments to jevans3704@aol.com
In Depth Jamesey's Veteran View Index