March 26 2016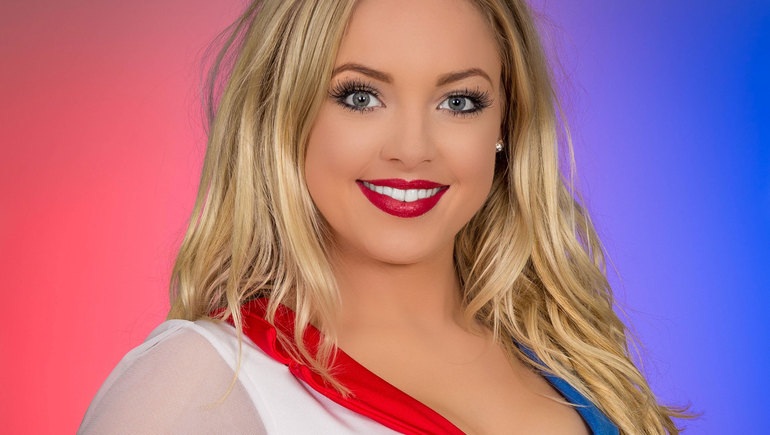 We kick off a brand new series of profiles on the Crystal Girls with Holly!
Name: Holly.
Nickname: Holls or my dad calls me Dodger.
Age: 23.
Occupation: Sales assistant.
Hometown: Redhill.
Years on the team: First season.
What have you enjoyed most about being a Crystal so far? Experiencing everything for the first time. Being on the pitch is amazing, the atmosphere, making friends with everyone.
What's the funniest thing that's happened this season? It had been raining at one of the last games and I slipped when we did the walk on and it was really funny.
What is something that you can't help but spend money on? Food – it's a necessity, so I don't mind spending money on it.
What do you keep in the boot of your car? My pom-poms and an umbrella – that's it!
Something you can't live without? Probably my phone – it's like my third arm because I take it everywhere. I feel lost if I don't have it with me.
What do you do for fun outside of cheerleading? Spending time with my friends. And I've got a dog so I walk him.
What is a habit that you wish to break? Biting my fingernails.
What three items would you take with you on a deserted island? Sun cream, my phone and food – energy bars!
If the zombie apocalypse happened tomorrow, which three Crystals would you want fight next to you and why? I'd probably take Claire because she is very organised and she'd keep the supplies for us. Stacey because she'd be good at fighting them off. And probably Grace because we could just hide and let the girls fight them for us.
What is the last thing you do before you go to bed? Check my phone, set an alarm, take my make-up off, brush my teeth and put Family Guy on.
What actress would play you in your life story? Amanda Seyfried because everyone says I look like her.
Favourites
Emoji: Crying laughing face.
Word: Love.
Smell: Victoria Secret's perfume.
Dance style: Commercial.
Music: Pop.
Holiday spot: Maldives.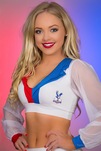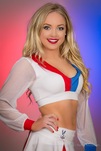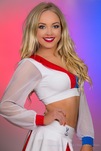 Find out more about the Crystals
Coming soon, profiles on the rest of the squad: Sophia, Jessica, Ciera, Grace, Claire, Malika, Gemma, Kim, Stacey, Georgia, Kimi and Mollie.
Photos © copyright Ramzi Musallam/Holmesdale Online. Assistant Alex Taliadoros.