March 29 2016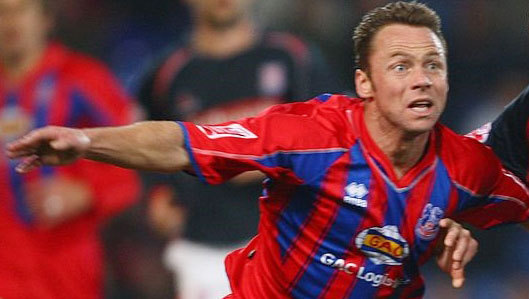 Crystal Palace have had a number of players with rather unfortunate sounding names. Here are the 10 that made us snigger most...
10. Paul Dickov (2007)
Much-travelled short striker made nine appearances on loan from Man City without scoring a goal.
9. Bert Menlove (1919-22)
Centre forward's goals helped Palace win the Third Division title in 1921 and also contributed in the scalps of top-flight sides Manchester City and Everton the FA Cup.
8. Willie Wallace (1971-72)
Scottish international striker joined from Celtic after helping the Hoops win a clutch of silverware including the European Cup in 1967 but enjoyed little success in South London.
7. Simon Rodger (1991-02)
Tenacious midfielder spent more than a decade with the Eagles after coming up through the youth system.
6. Dick Graham (1945-51)
Stylish goalkeeper was popular with fans and served the club well during the Third Division (South) days.
5. Joe Bulcock (1909-14)
An ever-present at full-back for four seasons before eventually losing his place in the side and joining Swansea. Was killed during the First World War while on service in France.
4. Paul Trollope (1996)
Welsh midfielder made 10 appearances – all as a substitute – during a loan stint from Derby County.
3. Jamie Pollock (2000-02)
Fat midfielder was snapped up from Man City and started well at Selhurst Park but discipline and weight problems contributed to his exit.
2. Mike Hunt (1924-28)
Croydon-born goalkeeper came in from a local professional outfit but only managed four appearances in the shirt of the Glaziers.
1. Albert Mycock (1946-48)
Signed from Manchester United in the summer of 1946, the forward played 61 times and found the back of the net on nine occasions.
Do you agree? Post your views on the message board!
Read more Top 10s in our archive!
Email your feedback to editor@holmesdale.net