April 7 2016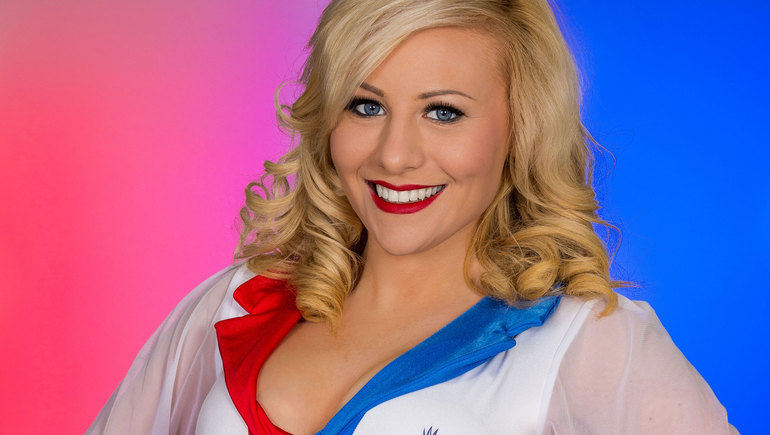 This week, we profile Kimberley from the Crystal Girls...
Name: Kimberley.
Nickname: Kimi.
Age: 24.
Occupation: Full-time mum.
Hometown: Hounslow.
Years on the team: Second season.
What have you enjoyed most about being a Crystal? Getting to know the girls, learning new routines and performing on the pitch.
What's the funniest thing that's happened this season? Nothing this season yet, but last year I was in the guard of honour and got completely drenched by the sprinklers all on one side. I just had to carry on and when I got back I had to blow dry my hair and re-straighten it.
What is something that you can't help but spend money on? I'm obsessed with make-up.
What do you keep in the boot of your car? A push-chair – nothing really fancy.
Something you can't live without? My little boy. He'll be two in April and is at a crazy age where he's learning everything and repeating everything.
What do you do for fun outside of cheerleading? My life is performing, dancing, rehearsing, training, being a mum. But I like getting all dressed up and going out.
What is a habit that you wish to break? On text mesages, I always put "hehe" after every sentence, even if it's not funny. I don't know why but I guess it's because I am quite jokey.
What three things would you take with you on a deserted island? My son, my mum, and my phone.
If the zombie apocalypse happened tomorrow, which three Crystals would you want fight next to you and why? Malika, Sophia and Stacey. They'd be able to help fight them off. I'd probably be the one to stand back and probably hide and cry. I don't think I'd be very good in a zombie apocalypse.
What is the last thing you do before you go to bed? I'm on my phone, checking up on everything that's going on and playing games to get me to sleep.
What actress would play you in your life story? I like Julianne Hough, she just did Greece Live on TV. She's a singer, dancer and actress. She is beautiful and one of my idols.
Favourites
Emoji: The two dancing girls.
Word: Mummy. Obviously hearing it when my son says it is amazing.
Smell: I love the smell of Subway when walking past.
Dance style: Commercial.
Music: I'm obsessed with Christina Aguilera ever since I was little. I could listen to her all day, I'm in love with her. I like big divas, ballads, anything I can sing along to and I like Little Mix.
Holiday spot: I'd love to go to New York, to go shopping, do dance classes, see a Broadway show, that's a dream. But my favourite holiday spot would be anywhere warm like Spain or Portugal.
Find out more about the Crystals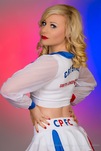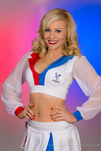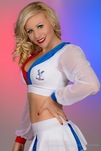 Coming soon, profiles on the rest of the squad: Sophia, Jessica, Ciera, Grace, Claire, Malika, Gemma, Kim, Stacey, Georgia and Mollie.
Photos © copyright Ramzi Musallam/Holmesdale Online. Assistant Alex Taliadoros.