April 25 2016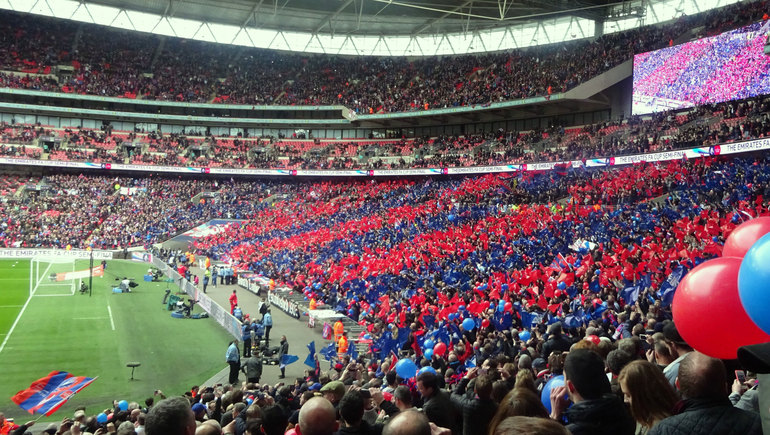 It was a sea of red, blue and gold at Wembley for CPFC's semi-final against Watford. Jamesey headed north-west for a big day.
The memories came flooding back.
It is hard to reconcile the fact that our 1990 final and replay were 26 years ago and that many supporters who, hopefully, will read this column weren't even born.
Born or not, I don't need to go over old ground in too much detail. Steve Coppell's team, captained by Geoff Thomas, went to Old Wembley, drew the final and lost the replay 1-0 to Man Utd. Yes, young folk, a replay is what occurred in those distant days before extra time and penalties were invented.
One can speculate in many ways about the implications of that result. Did it save Sir Alex Ferguson's bacon and erase the squeaks from his backside? His club had performed poorly for several seasons but, after picking up the FA Cup, went on an amazingly impressive run in the next couple of decades.
During that time it seemed that the gulf between the big money clubs and the rest grew ever wider.
However the current season has seen a significant shift with the smaller, unfashionable clubs holding their own against the big boys.
The amount of cash coming in through Premier League status grows ever bigger and is to increase even more in the '16-17 season.
It makes for a literally more level playing field and in my view is far more fun for the majority of football enthusiasts.
Anyhow, the Eagles meet the same opponents next month and although no doubt United will be hot favourites with the bookies, a small club like ours can now afford to pay the wages of stars like Yohan Cabaye.
Palace may start as underdogs but will certainly be no pushover.
Back to the present day, the Eagles have had a surprisingly tough road to the final, meeting only Bagsodosh League sides until Reading, while the Hornets' one tough test was their 2-1 away victory against Arsenal.
But that's all irrelevant when it comes to the FA Cup where anything can happen on the day.
It was only my second trip to the New Wembley, the first one being being the play-offs victory against who else but Watford three years ago.
To digress briefly, in the 1980s I was the proud owner of a holiday flatlet on the Costa del Sol in a town that was totally dominated by foreign expats and visiting north European sun-seekers.
Apart from the climate and the sight of the sparkling blue Mediterranean, it was hard to hear Spanish being spoken or to see any local nationals apart from the workers who serviced the tourism industry.
I used to wonder what it was like for a Spaniard to be almost a stranger in your own country.
Living in London in 2016, I now know all too well and compared to the Wembley area my own south-west London suburb seems a veritable haven of Britishness.
I don't intend to be critical. London has always been poly-ethnic but walking through the streets surrounding Wembley stadium it was difficult to see much evidence of being in Britain at all.
Anyhow I wasn't there to do socio-ethnic research so I stuck my £50 (conc) ticket in the gismo and went on in.
It is pointless to talk too much about the game. I am sure that all Eagles supporters will have immersed themselves in countless reports, pictures, TV highlights, football forums, etc, and there's nothing much more that I can add.
The Wembley atmosphere was wonderful with the Hornets contingent in fine voice too.
It was striking how well the stadium stewards and staff handled the massive task of getting 80,000 souls in, out and into queues for transport links after the match - quite an organisational feat.
As far as the actual game was concerned, after an abysmal 2-0 midweek performance by the Second XI against Man U (but for Julian Speroni we could have left Old Trafford humiliated by a 6-0 thumping) it was a pleasure to see possibly our strongest team get stuck in straight away.
It only took Yannick Bolasie six minutes to head in the Palace opener and Watford were pretty well overrun for most of the first half.
The Hornets looked stronger after the break and Troy Deeney (who else?) headed in their equaliser after 10 minutes.
There was a collective groan from Eagles supporters. We're not going to throw this away, are we?
But Palace pressed forward again and on the 61st minute Connor Wickham headed in the winner and that's the way it ended.
And so, another trip to Wembley looms in May with a chance to make a little history, winning the FA Cup for the first time and avenging the 1990 defeat.
This supporter thinks our chances are strong. But first a few more points (or even one) in the league would be comforting.
---
Email Jamesey with your comments to jevans3704@aol.com
In Depth Jamesey's Veteran View Index