August 17 2016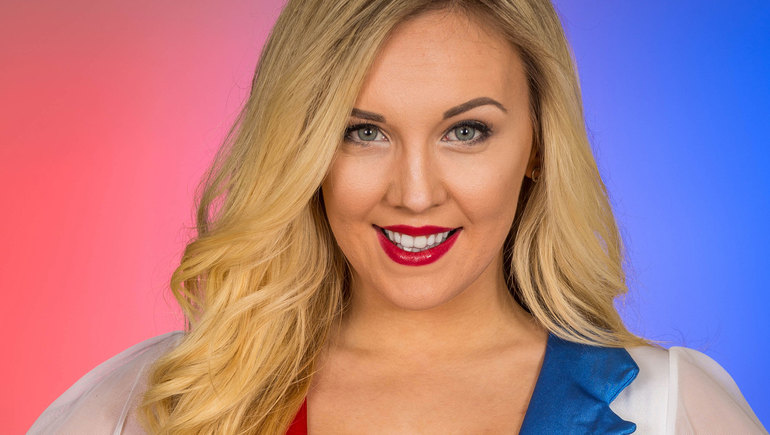 Get to know a little more about Jessica of the Crystal Girls.
Name: Jessica.
Nickname: Bettsy.
Age: 23.
Occupation: Dance and children's entertainer.
Hometown: Southampton/London.
Years on the team: Two seasons.
What have you enjoyed most about being a Crystal so far? The main thing I love is the atmosphere on the pitch. It's ridiculous. When you hear the roar, the singing, the drum, it actually makes tears come to your eyes sometimes. Especially in the guard of honour when you see the kids come out with the players – it's a really nice experience. I don't ever want it to stop!
What's the funniest thing that's happened? While the girls were dancing, I was filming them from the side of the pitch on my knees. A massive gust of wind came and a crisp packet got stuck on my face and all the fans in the whole front row were screaming laughing at me and I was so embarrassed.
What is something that you can't help but spend money on? Starbucks lattes, food and make-up. But mainly Starbucks coffees.
What do you keep in the boot of your car? I don't have a car, so nothing!
Something you can't live without? My phone. I need it to communicate with my family who live in Southampton.
What do you do for fun outside of cheerleading? I like doing different activities like Go Ape and to find new, fun active experiences. Plus I like to socialise with friends and go shopping.
What is a habit that you wish to break? I eat cheese on everything. It's amazingly nice but so bad for me.
What three items would you take with you on a deserted island? My phone, sun lotion and my bunny rabbit cuddly toy, Biscuit, to keep me company so I don't go insane.
If the zombie apocalypse happened tomorrow, which three Crystals would you want fight next to you and why? I love horror films and in my head have already planned out a zombie apocalypse and what I'd do. I would probably keep the group together. I'd bring my two best friends Ciera and Kim. They'd probably be crapping themselves so I'd have to keep them together, so I could be with them at all times and wouldn't want to lose them. Then I'd bring Sophia because I think she'd try and keep it funny. I think she'd try to be a zombie and blend in to keep the laughter going.
What is the last thing you do before you go to bed? I usually have Pretty Little Liars on which I'm addicted to, while being on my phone before I eventually fall asleep. I have to have something running in the background and I fall asleep to it.
What actress would play you in your life story? Kate Hudson. I like her as an actress and think she could portray me in all the ways I am.
FAVOURITES
Emoji: The tongue face with the crossed eyes.
Word: Cute.
Smell: Fresh linen candles.
Dance style: Commercial.
Music: Chart music, acoustic music and I'm a secret George Michael fan.
Holiday spot: Caribbean.
Find out more about the Crystals
Coming soon, profiles on the rest of the squad: Sophia, Grace, Claire, Gemma and Stacey.
Photos © copyright Ramzi Musallam/Holmesdale Online. Assistant Alex Taliadoros.