September 3 2016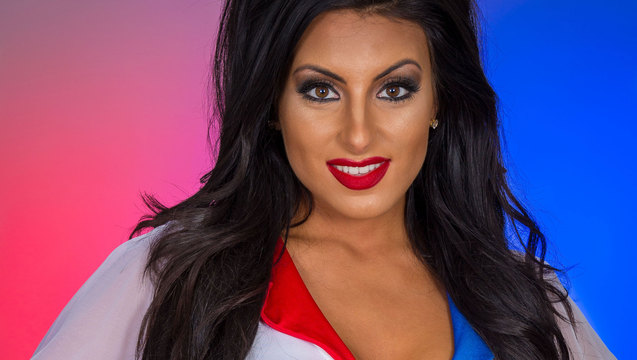 Say hello to Sophia in this week's profile on the Crystal Girls!
Name: Sophia.
Nickname: Soph.
Age: 22.
Occupation: Dancer.
Years on the team: Two seasons.
What have you enjoyed most about being a Crystal so far? Meeting all the girls and performing on the pitch. I get such a buzz from it.
What's the funniest thing that's happened this season? Nothing out of the ordinary as of yet but we all do stupid things like drop poms or slip up.
What is something that you can't help but spend money on? Make-up and food – either snacks or going out for meals.
What do you keep in the boot of your car? A big bottle of water to fill up my car in case it over heats, a bottle of oil and a tyre pump.
Something you can't live without? My cat or Earl Grey tea.
What do you do for fun outside of cheerleading? Cinema, going out for meals and bowling.
What is a habit that you wish to break? Spending money on unnecessary things.
What three items would you take with you on a deserted island? Sun cream, music, ice cream machine.
If the zombie apocalypse happened tomorrow, which three Crystals would you want fight next to you and why? Malika because she is my partner in crime – we've always got each other's back. I think Jessica would be good in that situation and Kim Fletcher because she is feisty.
What is the last thing you do before you go to bed? I put on something on the telly like Family Guy.
What actress would play you in your life story? Eva Mendes.
FAVOURITES
Emoji: The monkey with hands over face.
Word: Bella.
Book: Harry Potter.
Smell: Paco Rabanne.
Dance style: Commercial.
Music: Old School garage and R'n'B.
Holiday spot: Barbados.
Find out more about the Crystals
Coming soon, profiles on the rest of the squad: Grace, Claire, Gemma and Stacey.
Photos © copyright Ramzi Musallam/Holmesdale Online. Assistant Alex Taliadoros.