January 12 2017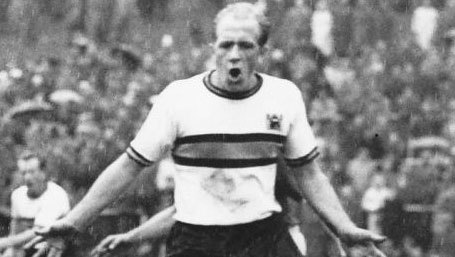 Very few football fans will have heard of Alan Esplin Woan let alone seen him play, writes Iain Gordon.
He has an interesting name (Esplin originates from the Hebrew 'Avshalom') and whilst he never hit the footballing high spots, as his son Ian (Nottingham Forest 1990-2000) was once quick to point out, for me he remains an intriguing and enigmatic character.
Woan was born in Liverpool in 1931. The records show that in his early 20s he first played for 3rd Division (South) Norwich City from 1953 to 1956 featuring in only 21 games and scoring seven goals before transferring to Northampton Town. There his undoubted talent for goal scoring began to shine through, and in the space of about three years, he netted 68 goals in 119 games.
Despite his very impressive goals record, Woan was inexplicably transferred to another 4th Division club, Crystal Palace, two months into the 1959/60 season. He made his debut for a Palace team, which contained such luminaries as Johnny Byrne, Dave Sexton, Roy Summersby and Johnny McNichol, in a 2-0 away win at Gateshead.
That commenced a run of four winning games, all with clean sheets, and 12 goals scored (Sexton 3 Byrne 2 Roche 2 Woan 2). With that sort of form and an impressive array of players, one thought at the time that promotion beckoned.
Not a bit of it, with the sort of inconsistency today's supporters will be familiar with, Palace contrived to win only eight league games out of the remaining 24 and finished in 8th place, two below Northampton.
In all, during that truncated Palace season for him, Woan managed eight goals in 25 games. Undoubtedly this was partly due to the loss of the wily Sexton, then only 30 years old, finally succumbing to a long-standing knee injury probably incurred playing for Brighton & Hove Albion in the previous promotion season.
Next season (1960/61) was an entirely different kettle of fish and Palace took the 4th Division by storm. With the ex-Spurs supremo, Arthur Rowe, at the helm they had a largely unchanged team throughout the season. Byrne was in his pomp and attracting the big clubs with his superlative ball skills and goal scoring finesse.
Rowe moved the impeccable Summersby from wing half to inside forward and captain McNichol from wing half to right back with fearsome enforcer George Petchey bossing the midfield.
He had two experienced tricky wingers, Johnny Gavin and Ron Heckman to provide the service, in the first instance, to Woan and Byrne although Heckman and Summersby scored more than their fair share.
The beginning of that season was when Woan really came good. The opening home game against Accrington Stanley saw a hat-trick apiece from him and Byrne with a brace for Heckman in a famous 9-2 demolition. The following three games, two against Darlington, produced 9 goals (Byrne 4) with three of them for Woan.
Palace supporters sensed that at last the sleeping CPFC giant was stirring. Crowds shot up to around twenty thousand and the locals were for the first time becoming optimistic.
Palace were not to get it all their own way though as there was a new kid on the block, Peterborough United (The Posh) who had, not before time, emerged from the non league. In the space of six days they comprehensively beat Palace home and away with an aggregate of 6-1.
Woan's appearances were intermittent either through injury or something else. There were rumours that he and the uppity boy wonder Byrne, who was eight years his junior, had fallen out possibly even violently.
Like Byrne, Woan was no speed merchant and he lacked the close dribbling ball skills of the future England player. He made up for it though with a strong physical presence, a ferocious shot and a great eye for a goal.
One goal he scored was a cheeky back heel (no not a scorpion) from about six yards. He was a deceptive player with a languid nonchalant style which appeared to be arrogant at times.
Imagine my surprise and dismay, then when out of the blue, Woan was suddenly transferred to Aldershot three quarters of the way through that barnstorming promotion season having scored a very impressive 13 goals at almost a goal a game and an overall 23 goals in 46 games. Inevitably he kept up his good scoring record for The Shots before ending his professional career aged 33.
I would surmise that Woan, now aged 85, is very much a typical proud Liverpudlian an individual who did things in his own way in his own time. One cannot help feeling though that, in common with many, he never reached his true footballing potential.
Tony Collins came to the fore recently through a book by his daughter so it would be great to hear the real story of Alan Esplin Woan right from the horse's mouth. It may not happen but in any event the mystery of this gifted and underrated player will live on in my memory and the annals of footballing history.