February 12 2017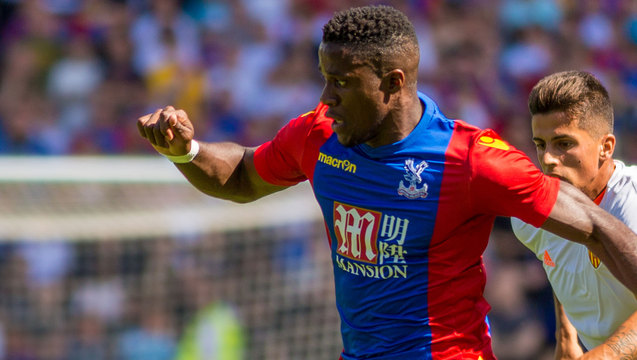 After the Mackem Horror Show last week, what would be next? Jamesey and Wilf King report.
Please forgive me for possibly being over-dramatic with the above headline.
The Churchillian-style warning of fascism enveloping Europe in the 1930s is obviously on a different planetary scale to a football club's struggle against the threat of relegation.
All the same it does hurt rather a lot as all loyal Eagles supporters will testify.
First, as any regular reader of these columns will know, I don't do away games any more so my own views are based on streamed TV (excellent quality EPL HD), highlights and supporter's opinions.
Many of us are still reeling from the Sunderland debacle (Feb 4) and the 0-4 demolition in front of our very eyes at Selhurst.
A visit to Stoke City's place (Feb 11) looked a far more daunting prospect so a massive improvement would be needed to make any headway at all.
Two of Sam Allardyce's new additions started at the bet365 Stadium, Patrick van Aanholt and Luka Milivojevic, with Jeff Schlupp and Mamadou Sakho on the bench.
Despite the obvious superiority of the Potters, it must be said that the Eagles looked far more balanced and less panicky than previously with the new lads making a seriously constructive contribution.
Having praised Wilfried Zaha's efforts last week, it was almost inevitable that he had a disappointing game and was replaced in the second period.
Yes, he does get rough treatment but it was always the case with clever, tricky wingers. Anyone remember those photos of George Best's bruised and lacerated legs after a game?
Wilf does himself no favours with his histrionic appeals for free kicks every time he is tackled and referees now tend to ignore him. Please, Wilf, you are a great talent but just get up and get on with it.
Anyhow at least we went in 0-0 at half time which looked more hopeful than usual.
It wasn't until the 67th minute that Stoke's almost inevitable goal was rifled in by Joe Allen and that was the end of the story really.
Without going into chapter and verse, in this supporter's view we look like a Championship team now.
How I would love to be proved wrong but all Sam's rhetoric of "fear", "lack of confidence", etc, etc, can't paper over the cracks.
The Potters are a very useful side although we had beaten them in our previous five meetings. Summing the game up: we were nearly always 2nd to 50:50 balls; our midfield was totally outclassed; our passing and cheap ball give-aways were eagerly pounced on; we had no discernible tactics and resorted to the usual high ball hoofing in the second period.
That's enough for now, I think.
As the snowflakes drifted down over south London my thoughts turned to my friend Wilf King who was at the match and his thoughts follow below.
---
I and two friends take part in our own pool tournament once a year.
We usually take in an away Palace match and Stoke City was chosen.
We stayed in a most hospitable Manchester United themed hotel in Salford Central. Having travelled up on Friday we left our hotel on Saturday morning full of optimism as Big Sam had said all our four January signings were available for the Stoke match.
Here are the highlights of our day:
1. A Canada goose crossing the main road near Stoke railway station.
2. The Glebe Hotel which serves most excellent Joules beers and doorstep sandwiches.
3. Friendly Stoke supporters telling us in the Glebe that CP are their bogey team; Palace had won the last five matches.
4. Supporters bus to the bet365 stadium for a £3 return fare.
5. Chatting to fellow Palace supporters also full of optimism; well it has to be better than last Saturday?
And that ends the highlights.
We witnessed another dire Palace performance but at least we got through the 42-minute barrier and went in 0-0 at half time.
The remainder of the match is not worthy of comment as the Eagles only had one shot on target!
I have commented on CPFC Forever that James Tomkins would be better scoring goals than taking "positives" from this match (his miss at 1-0 was atrocious, but Andros Townsend's free-kick was worse).
Well that's it folks - oh yes the pool is going well and I am hoping to pack the trophy in my suitcase on Monday.
---
Email Jamesey with your comments to jevans3704@aol.com
In Depth Jamesey's Veteran View Index