April 16 2017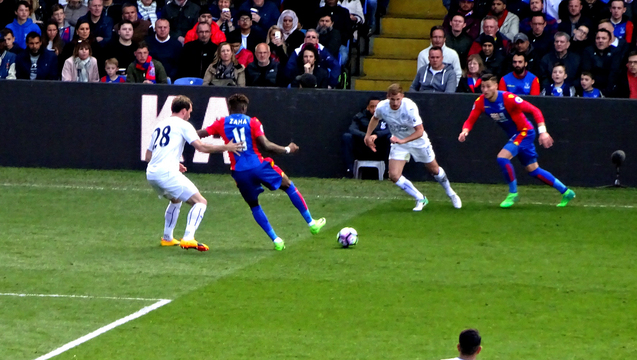 Heady times for Palace so how would the team cope when Leicester City came to town? Jamesey reports on a 2-2 draw.
I groaned and banged my head against an invisible wall when I read all the punditry and predictions about CPFC's home fixture against Leicester (April 15).
Eagles on an unstoppable run; Foxes knackered after mid-week exertions in Madrid; sure-fire home win for the Eagles; blah, blah, et, etc.
Talk about tempting providence.
Last week, your columnist was still in seventh heaven after our sensational 1-2 win away at Chelsea (April 1) but was brought back firmly to reality when he watched the lacklustre display and loss by three goals to one against Southampton (April 5).
But, of course, much, much better was to come in our Selhurst date with Arsenal (April 10).
Of all the games I wish I had seen in person, that game ranks very high but regrettably I wasn't feeling too well that Monday evening and chose to watch the game at home on screen. Curses, curses...
Whoever would have even had the temerity to dream that we would defeat the mighty Arsenal 3-0? But we did and that made two very important scalps in 10 days.
So back to the present. Yes, we were strong favourites to defeat the Foxes but after a miserable early season, they have come back strongly.
This game was never going to be a pushover and all Eagles supporters know too well that the team can be unpredictable.
However, it was still a massive shock when, after only six minutes, Robert Huth's head connected with a long throw-in and the visitors were a goal up.
And so it came to pass that the side, who against Chelsea and Arsenal only conceded a single goal against relentless attacks, were suckered into allowing an unmarked defender to nod in before we had barely settled in our seats.
Far from resting any players after the bruising Spanish trip, Foxes manager Craig Shakespeare fielded a strong side including Vardy, Mahrez, Ndidi, King and Drinkwater.
The away support was large and vocal too; a fleet of coaches spilled out of the normal parking area outside the Arthur.
The Eagles looked far from their best although it was only keeper, Kasper Schmeichel's foot that prevented Christian Benteke from levelling the scores just before the interval.
Worse came in the second half when, one on one with Jeffrey Schlupp, Vardy curled in a cracker which Wayne Hennessey could only divert into the corner of the net. Two down seven minutes into the second half.
Palace supporters had little time to become too despondent. After a couple of minutes, Yohan Cabaye continued his excellent run of form and put the home side back into contention with an expertly taken shot.
The red-and-blues really started to show why the Great Escape had become a distinct possibility and with 70 minutes on the clock, Benteke powered home an Andros Townsend cross and put Palace on even terms.
Despite CPFC looking far the better outfit in the second period, the game finished at 2-2, a result that most of us would not complain about.
To come back after a 2-0 deficit showed real grit and determination and as fellow correspondent Wilf King told me: "If Pardew was still here we'd have lost 4 nil."
As I write, Palace have 35 points, lie 15th in the table and have a game in hand on a number of other possible relegation candidates.
On the surface the club looks reasonably safe but mathematically things could still go awry. The grim memory of "Oldham" still haunts this supporter's thoughts although in a totally different context.
Younger fans, pondering the meaning of "Oldham", should ask their dads, uncles or even grandpas...
---
Email Jamesey with your comments to jevans3704@aol.com
In Depth Jamesey's Veteran View Index