October 5 2017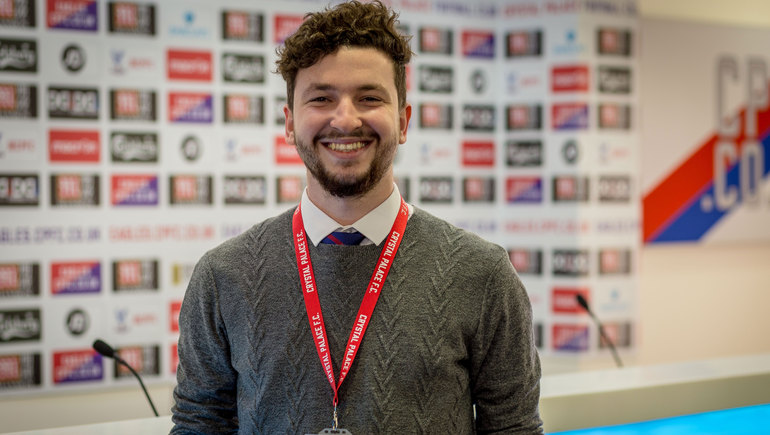 We go behind the scenes at Crystal Palace by finding out more about some of the people who make things happen at the club, writes Ramzi Musallam.
You've met Chris Grierson, voice of Palace's media team, now here's Sam Jordan whose fingers are behind the tweets and social media posts you read each day.
Sam joined the Eagles in April 2015 on the day that Jason Puncheon scored the winner against Manchester City, how times have changed!
He was originally a major contributor to the matchday programme where he assisted the programme editor Jonny Rogers. A Portsmouth university graduate, he chose that location as it allowed him to get to Selhurst easily on a Saturday.
Hailing from Walington, Sam has been a Palace fan since as long as he can remember. His job application included a copy of his dissertation for his journalism degree which included interviews with Palace people including Steve Parish.
Right now he is loving his job and remembers the 2016 FA Cup run as a particular highlight. Sam actually enjoyed the semi-final more than the final, as apart from the result, he was busy until 11.30pm and unable to drown his sorrows!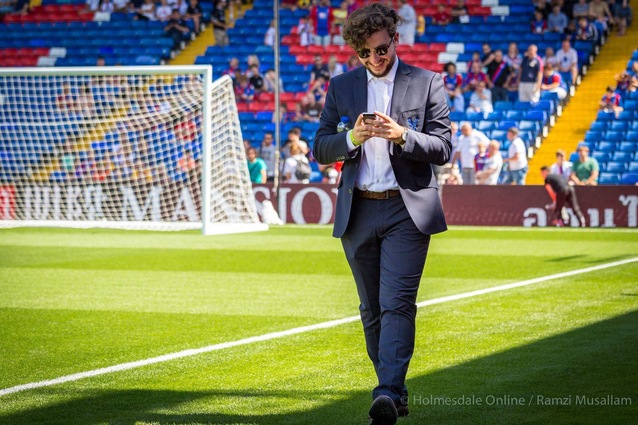 He acknowledges that itís a great job for a lifelong fan and particularly enjoys the access he has to the players and senior management. He also loves the travel thatís involved with the away matches.
Sam and his team, are responsible for tweeting and updating the CPFC social media platforms (Twitter, Instagram, Snapchat, Periscope and Vine) with digital content.
Sam was kind enough to give the Holmesdale Online some behind-the-scenes access to see whatís involved in keeping the Palace fans up to date on the latest information coming out of Selhurst Park.
Itís not only on matchdays he is busy but also during the week, where he operates out of Palaceís Beak Street offices in central London, Selhurst Park and also the training ground in Beckenham.
HOL wishes Sam all the best in his role and hopes itís not too long before he and his team are tweeting and reporting on some good news as the last few weeks have been pretty tough for the Club in the media spotlight!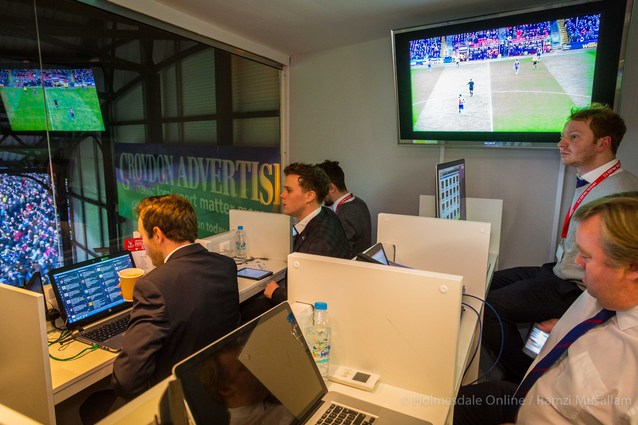 Sam in 60 Seconds...
Current Job title: Social media manager.
Countries visited with Palace: England, Wales, Germany, France, USA, Canada, South Africa and Hong Kong.
Funniest moments in your role: I remember having a good laugh watching the filming of the Bolasie vs Twitter video years ago when I was new at the club. Pre-season tour is always funny as well. It's hard to think of one standout!
If you were stuck on a desert island which colleague would you want to be stuck with and why, and which Palace player? Probably Grio (Chris Grierson). We get on well and would at least be able to keep each other laughing. Punch or Wilf for the player.
Typical week during the seasonÖ It can vary massively, obviously, given the nature of football. Generally I'm at the training ground. Mondays we tend to cover the home U23 games there or at Selhurst, then the rest of the week is spent in our office at Copers Cope.
The end of the week is always busy gearing up to the next game and covering the manager's press conference live on Twitter. I cover the first team home and away, so will typically be at a game every Saturday!
First Palace game you attended? I think it was Palace v Preston in the early 2000s. We won 2-0, so I've always thought it was the 2002 one with David Hopkin and Ade Akinbiyi scoring. I don't remember either goal though, because we were queuing for burgers in the Arthur. I still don't think I've seen them to this day...
Which Palace game do you look forward to covering the most this season? Brighton home and away will be big for obvious reasons. I like the trips to Newcastle and Manchester, but am missing United this season. Leicester away I tend to enjoy as a fan and an employee. Actually, I've not been to Huddersfield before, so that'll be good. It's meant to be lovely up there.
What do you and your colleagues think of the Holmesdale Online and if there was one thing you could change about it what would it be? I like it. I try to read it as often as possible, as everyone does. It's interesting reading people's opinion. I like the Twitter feed pushing out the new threads, too, that's handy.