November 19 2017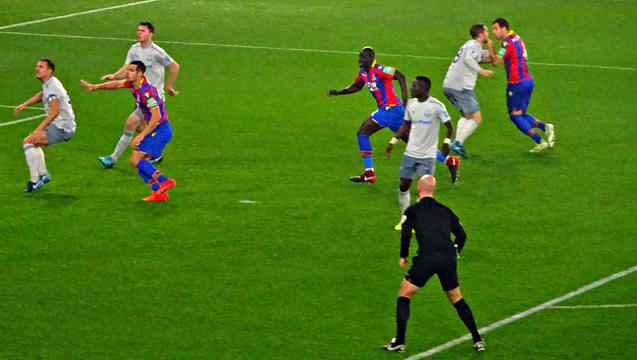 On a dank and damp November day, the Eagles entertained fellow strugglers Everton. Jamesey reports on an ultimately frustrating 2-2 draw.
After a couple of away defeats which could so easily have yielded a point or even three, plus a spirited recovery to a 2-2 draw against West Ham (Oct 28), the outlook at Selhurst was looking distinctly brighter.
The almost customary full house turned up to see how the team would react against an Everton side which has problems too, not least a managerial vacancy (Nov 18).
After an injury scare it was a relief to see that Ruben Loftus-Cheek was to start. Palace's Chelsea loanee had become somewhat of a national sporting hero after his international display against Germany and hopefully he could maintain that form.
Another international revelation in Gareth Southgate's new-look young England side was keeper Jordan Pickford but here, regrettably, he was between the posts for Everton and hopefully not as solid as he had looked against the Germans.
Right from kick-off, Loftus-Cheek was looking sharp as he tricked his way through the opposition tackles and unleashed a shot which Pickford could only parry. James McArthur was in the right place at the right time and volleyed the ball into the net.
There was a stunned silence for a couple of seconds until the home supporters, not used to seeing many goals at all this season, never mind an almost instant netting, erupted into joyful celebration. Palace were a goal up after only a minute. Incredible.
However, the elation was snuffed out within a few minutes when Scott Dann was adjudged to have brought down the Toffees' Oumar Niasse in the box and Leighton Baines' penalty sent Julian Speroni the wrong way to level the scores at 1-1.
It was a dubious decision and post-match analysis showed only the slightest contact followed by a dive of exaggerated theatricality. The TV pundits couldn't agree on the matter but whatever the argument, it counted as an Everton goal.
Overall, the Eagles were looking dangerous and Speroni had little to worry about.
Ten minutes from the break, Wilfried Zaha pounced on a cross that eluded any of the grey-clad defenders and banged one in to give CPFC the lead once more.
I suppose the expression "death wish" has no literal place in sport although one sometimes wonders whether the Eagles occasionally suffer from the condition.
We were waiting for the half-time whistle when Speroni of all people did a little jiggery-pokery and instead of hoofing the ball as far a possible up the field offered a tame pass to Scott Dann who was dispossessed. Niasse was put through to score the silliest give-away so far this season.
After the break the game was thoroughly engrossing although Palace probably had the best of it despite being fouled from earhole to breakfast-time by a very "robust" Toffees gang.
In a welcome return from injury, Christian Benteke came on for the final quarter hour.
Although supporters were delighted to see the club's top striker back in action, sadly he missed a couple of excellent chances which could have delivered three points to the Eagles.
What a come-back that would have been. Sadly, in a one-on-one and with the goal at his mercy, he scuffed the ball wide and on another occasion fired straight into Pickford's arms.
Well to be fair, strikers miss chances and ring-rustiness must have played its part.
All in all, the days are now gone when time has been on Palace's side. Now, we are a third of the way through the season, bottom of the league and have only five points. With every game, the scope to turn the season round becomes more difficult.
Selhurst is used to Stacksomoulah League relegation battles and so far in this latest and longest spell in the top tier, safety has been gained in the end. The team is playing well enough to achieve that but, please, could a lucky break or two go the red-and-blue way - just for once?
---
Email Jamesey with your comments to jevans3704@aol.com
In Depth Jamesey's Veteran View Index