November 19 2001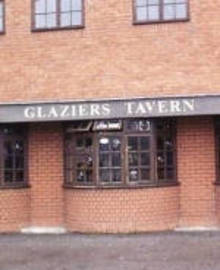 The latest fans forum took place in The Glaziers bar tonight. Answering questions today were Gary O'Reilly, Hayden Mullins and Aki Riihilahti.
Sam Hesketh gives us his account of the evening's events.
Came on and seemed to be practising for his after dinner speeches with stories from his past, in ever-so-lenghty detail, about the play offs and the Cup Final.
His stories were entertaining and he did say that the play off seemed to have a spirit which told him that Palace wouldn't lose this game.
He spoke of his hatred for Liverpool, and how good it felt to stick one in against them, and how amazing it was at Villa Park to get a standing ovation from the Liverpool fans. He also said it was a dream come true to score in the Cup Final and that when you play with such great strikers as Bright and Wright, it helped the defence a hell of a lot!
Finally he said, "not just because I'm here", that the Palace away fans are some of the best in the country.
Didn't seem very confident, stuttered quite a bit but was quite entertaining despite the fact he wasn't on very long. He said he enjoyed playing under V******s as it was him that gave Hayden his first break, and Steve Coppell was an inspiration.
He also said that he felt most comfortable playing alongside Vickers and Poppy, and that Wolves were the best team we have played against this season which made the victory at Molineux so much sweeter.
He doesn't harbour any aspirations to play for England because he says there is such a good team in place already but he is really happy for Clinton to be getting action with the Irish (he made a comment about Clint's Irish blood...) and that it'd be fantastic for him to play in the World Cup.
Finally there was the living legend, Aki Riihilahti, He came on to great applause and Byfield immediately made a comment about Aki's website, and that he had been on Soccer Sunday because of it. Aki commented that they only wanted him to be on the show so they could get a recommendation from him.
He said that he had 6 or 7 offers from Europe and about the same from England but that he wanted to play in the Premiership, which is why he chose Palace (to huge applause). He said that it was hard to play in England but that he loved it because he had always seen the English football when he lived in Scandinavia, and the language wasn't a problem as he learnt English at an early age (and that he speaks better English that Dougie!!).
He made sure everyone looked at the TV to see the goal scored in the Charlton v West Ham match before making everyone laugh with more comments about his website, saying that it was an easy way of letting his mum and dad know how he was doing, and that it was easier to reply to his fans by email as he can't always afford the stamps! He also added that Zidane was the best player he had ever played against and that England were the easiest team to score against in World Cup Qualifying!
He did get an offer he couldn't refuse - One fan offering to buy him a drink, and he ordered a Coke though it "tasted funny"...could this fan be getting a recommendation.
Went and spoke to him afterwards and he was a really upbeat and very friendly man, always ready to talk to any of the fans near him. Overall, a hugely popular figure who talks randomly - And long may it continue!