January 14 2018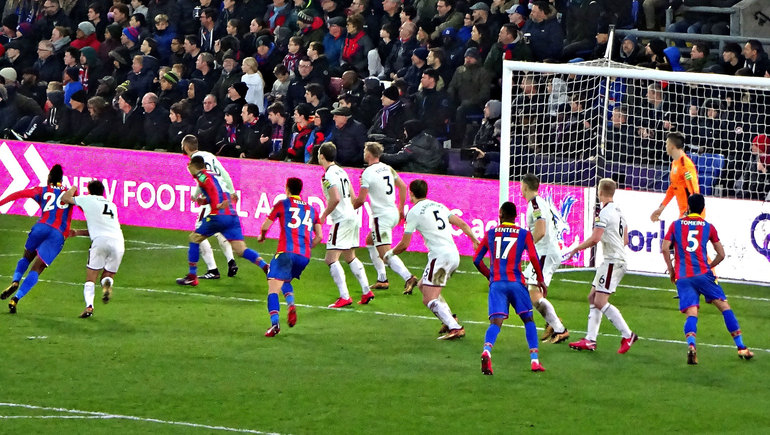 After a flying start Burnley are still punching above their weight despite a barren spell. Jamesey watched the Clarets perform at Selhurst.
It was real brass monkey weather on a winter Saturday (Jan 13) when Burnley came to town.
Injuries have severely limited Roy Hodgson's selection choices but one player who has seized his chances in no uncertain way is Bakary Sako.
The striker who most of us thought was a bench warmer, merely at Selhurst to make up the numbers, has turned out to be a star of the first order.
Not only did his goals help CPFC to victory against Watford and Leicester but he banged in a cracking consolation goal in the away FA Cup 2-1 defeat against Brighton earlier in the week (Jan 8).
And on the subject of Brighton, I was, I am certain, not the only Eagles supporter who was annoyed at our lacklustre display against the Seagulls. After I calmed down I had to concur with Roy's decision to avoid any gung-ho tactics.
In the annual scrap against relegation, league games take precedence and a strong performance against Burnley was of infinitely more importance than any cup encounter, even one against one of our unlikely rivals.
So turning back to the starting squad against the Clarets, Sako, the French-born Malian with a splendidly exotic hair style was included. Along with Wilfried Zaha, Christian Benteke, James McArthur and James Tomkins, the team certainly didn't lack a strong spine.
The Eagles started strongly and the lads from Lancashire hardly knew what had hit them as Wilf and Sako raced down the wings and Benteke provided some neat touches and flicks to provide them with ammunition.
One of the flicks was pounced on by Sako on the left and as the Clarets defence retreated in fear, in the 21st minute he fired in a shot at a difficult angle. At the time it looked as though the ball had pin-balled around before it hit the back of the net but watching the MOTD replay later revealed that it went under the keeper's legs.
The Palace crowd were roaring "Sako, Sako, Sako". The fans had found a new talisman in the form of a Malian maestro.
From then it was a catalogue of missed chances as McArthur latched on to a great Zaha cross but couldn't quite turn it in.
After that near miss, a Benteke header went narrowly over the cross-bar and Sako himself should really have added a second when he too volleyed over the bar.
James McArthur must be mentioned in dispatches and his terrier-like performance created chances and he never gave up in his retrieval efforts either.
The Eagles should have had the game sown up at the half-time whistle but, of course, the team weren't going to win the easy way.
A side like Burnley will never going to lie down and die and one can be sure that some choice epithets from manager Sean Dyche enlivened their dressing room during the interval.
Sure enough, the Clarets came out fighting and it was a far more even performance with the away side probably shading the second period.
How we all rued those missed chances as the north-westerners looked more and more like equalising or worse and robbing CPFC of at least two points.
Then, with only a few minutes to go, it seemed as though Burnley's Ashley Barnes was certain to score. But Wayne Hennessey courageously blocked the ball at the forward's feet, making one of the finest saves of his career.
So massive sighs of relief emanated from the red-and-blue army as the final whistle ended matters and Palace had earned themselves a deserved 1-0 victory and three points.
Roy Hodgson is not a man to complain unnecessarily but in his match programme notes he did make some strong references to the thinness of the squad and the inadequate cover. It was ironic that a "second string" team produced one of the finest displays of the season in the first half.
And please, footballing gods if you exist, let Bakary's fabulous run of goal-scoring go on and on.
---
Email Jamesey with your comments to jevans3704@aol.com
In Depth Jamesey's Veteran View Index