November 21 2001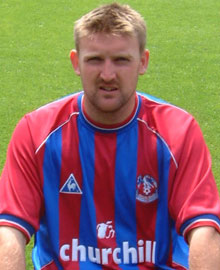 Reserve midfielder Jamie Pollock has been given a trial by Sheffield Wednesday with a view to a permanent move.
Pollock has been accused of being overweight and having a bad attitude by the Selhurst Park management.
The 27 year old has yet to play for the first team this season and had a loan spell with Birmingham at the end of last season.
He has been training on his own and would relish a fresh chance to ressurect his career.
Palace Talk Forum Latest
Sleepwalking
at 12.59am by thai-eagle
roy out
at 12.42am by Cucking Funt
roy out
at 12.38am by Rachid Rachid Rachid
roy out
at 12.36am by Cucking Funt
roy out
at 12.21am by kennybrowns leftfoot
Sleepwalking
at 12.12am by Rachid Rachid Rachid