March 11 2018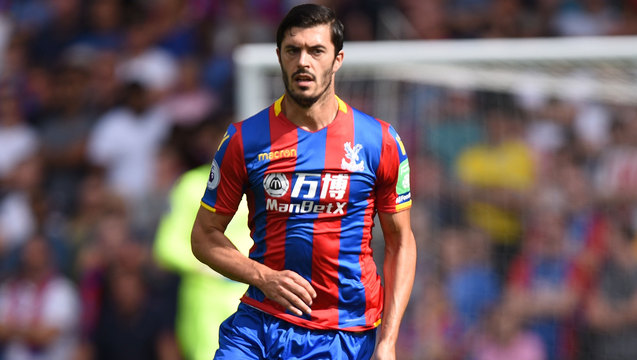 Crystal Palace sunk to their fourth consecutive league defeat at Chelsea. Mike Scott looks at how the Eagles performed...
Palace were looking for a third straight away win at Stamford Bridge, a feat that no side has managed since Blackburn in the mid 90s. Sadly, a rampant Blues performance early on saw them two up in little more than half an hour.
A spirited second half display saw Palace come close to an unlikely draw, but in truth the game should have been out of sight by then. The home side squandered a ton of chances and some last-ditch defending kept Palace in the game…
Wayne Hennessey - 6
The Welshman made four routine stops early on, which mainly came due to the fact that Chelsea were attacking almost continuously, but the last ball was not taxing enough. However, his nervousness from the United game seemed to spill into this one when it came to balls into the box and he looked a little out his depth.
He couldn't do a lot with the first goal, the deflection taking it out of reach. The second, his positioning has been questioned; he seemed to be in two minds about whether to protect his post or come across to intercept the ball. Much like the last couple of games, he had moments of strength, but moments that worry.
After two excellent performances against Spurs and United, this was arguably an even tougher proposition for the 20-year-old. Early on, he had his hands full with Marcos Alonso, although he made an excellent block in the first 10 minutes to stop a very menacing cross and stopped the same man again just before half-time from volleying one in.
His positioning was left a little wanting at times, particularly a move on half an hour when a ball over the top to Davide Zappacosta almost cost the away side, with Wan-Bissaka playing him onside by being a good ten yards behind his colleagues. But, in the second half, he barely put a foot wrong; with the away side looking much more at ease, he looked just as strong as he did for his first couple of games.
Martin Kelly - 6
Kelly found himself on the score sheet with a comical own goal, which he couldn't do a great deal about. His face on the replays speaks volumes about how gutted he was. He faced a near impossible job in the first half, with the two centre backs having less than the usual cover from the midfield and with the Chelsea wing backs having all the space they could ask for.
Like Tomkins, he put in a great performance when it came to brave defending and clearances, but the ex-England man had a pretty much impossible task. It's to his credit that Chelsea only converted two.
James Tomkins - 8
It may seem strange that a centre back could be given eight of ten considering how open Palace left themselves in the first half, but (even despite the fact that it was his deflection that took the ball in for the first goal) he was possibly the Eagles' standout player across the whole game.
His clearances stopped it being a cricket score, especially a stop on the line to deny Olivier Giroud, after the Frenchman fired one towards the far corner and most of the crowd had already started celebrating. Tomkins seemed to sure the defence up after Hodgson gave them a talking to at the break and he was the reason Palace even had a sniff of a point as the game progressed.
Another game, another excellently taken goal, but the Dutchman had a very tough afternoon against a rampant Zappacosta and the Italian was given much too much space early on. For the first quarter of an hour or so, it looked like Chelsea could attack at will and Van Aanholt wasn't keeping tight enough to stop balls coming in. The main difference to the last couple of games seems to have been lack of cover from in front, meaning he just could not cope.
Luka Milivojevic - 5
The Serbian had one of his toughest games in a Palace shirt and was totally outplayed by Willian, who was in irresistible form. For the first goal he provided the Brazilian too much space, but it seemed more just exhaustion from contending with too many bodies than any kind of poor positioning. Mainly, Chelsea just flooded the midfield in the first half. Only the tactics change at half-time saw him get any kind of respite.
James McArthur - 7
McArthur had an excellent second half and, as ever, worked tirelessly for the cause. Like Milivojevic, he couldn't cope with the attacking midfield options Chelsea had early on, but his work rate could not faulted. Almost every loose ball was picked up by N'Golo Kante in the first period, but after the break McArthur was able to act more as the outlet for movement forward. Unfortunately, when Chelsea were dominating early on, McArthur barely had a chance to get involved, but he still chased every shadow going.
Jeffrey Schlupp - 4
After such a disciplined display against United, Schlupp failed to offer anything like the same level of performance, with the ex-Leicester man failing to cover Van Aanholt and leaving huge gaps down Chelsea's right for Zappacosta to exploit. There was a big disconnect between the front two and the rest of the side, with Schlupp offering nothing like the outlet he did last weekend.
Jairo Riedelwald (6) replaced Schlupp with 20 minutes to go; the Dutchman seems to add an element of composure and space to the side whenever he comes on. He played a more solid role than Schlupp had up until that point; he was very unlucky to have been judged to have fouled when Sorloth put the ball in net, because he clearly had done nothing of the sort.
Andros Townsend - 6
Townsend had a very quiet first half, mainly because Chelsea were camped in their final third for long periods and, when the ball was moved upfield, it rarely made it to Palace's right. He covered United's left wing well, providing Wan-Bissaka with the kind of overlap he needed to get forward, but he had little opportunity to make the kind of runs he did against Spurs or United. He had a little more time on the ball once Zaha came on, but he was anonymous for long periods.
With a few minutes to go, Chung-Yong Lee (6) came on to replace him; he looked comfortable enough, but there wasn't enough time for him to make too much impact.
Both the front men had a very poor first 45, seemingly playing very square and, despite chasing any balls that came forward, the Norwegian offered nothing in the way of useful outlet play. After the change at the break, he seemed a lot more comfortable, finding himself a good few yards further forward, but he should've buried the shot he struck at the post and few balls came into him from wide positions. Having said that, his disallowed goal should have stood, so he should have broken his Palace duck by now.
Hodgon's thinly veiled post match interview talk of 'not all 11 players' trying hard enough in the first half clearly referred in part to the Belgian, who was substituted at half-time. The level of Chelsea dominance meant that Palace were resorting to hit-and-hope balls, but it was Sorloth, not Benteke, who was providing the better hold up option. In truth, he was anonymous for virtually the whole first half, offering one cross into the middle and precious little else. He may well find himself the casualty next weekend if the formation changes.
At half-time he was swapped for Wilfried Zaha (7), who unsurprisingly raised the morale of the team. One thing he does offer that is underappreciated is the extra time for recovery for the rest of the side that comes from the fouls he draws. Chelsea were relentless in the first half, but the fouls against him provided previous recovery time for Palace. He looked every bit as dangerous as before his injury too; another week of training and he'll be back to his old sharpness.