April 8 2018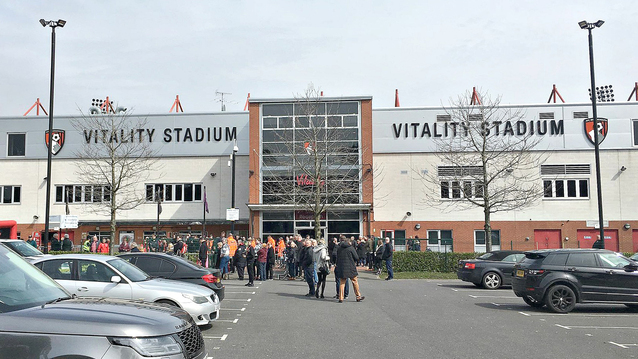 It was a bright day on the South Coast for the Eagles' away fixture with Bournemouth. Jamesey watched the 2-2 draw on screen while Wilf King joined the away supporters.
First we're safe, then we're not, then we're almost safe, then we're not…and on and on it goes in this frustratingly odd season.
Palace enter the last 'stage' of the season with six matches that certainly didn't strike that much fear into red-and-blue spirits, kicking off with a trip to Bournemouth (April 7).
The previous 'stage', ie, four fixtures against top-tier outfits, ended in four defeats and dress it up however much you can, that means zilch points and, apart from a rare win versus Huddersfield, the Eagles enter April in a customary position, hovering around the drop zone.
The Eagles line-up looked strong apart from the lack of a spearhead although many might question whether the absence of the non-striking striker, Christian Benteke, has much relevance nowadays.
A shaky start could have been disastrous for CPFC and despite the Cherries' superiority, at least it was all square at 0-0 at the break.
The second half heralded most of the excitement and after a couple of minutes, Palace's Serbian sharp-shooter, Luka Milovojevic curled in a glorious free kick to open the scoring.
Would this signal new strength in the visitors' ranks? Of course not - a fresh pair of legs in the form of Bournemouth sub, Lys Mousset, struck a crisp shot which to my eyes looked quite stoppable, and eluded Wayne Hennessey. All square.
In the 75th minute, Wilfried Zaha, who had until then had a patchy game, lashed in a great goal, silencing the constant barracking of the Cherries crowd.
Then - Palace fans might have known it - a couple of minutes from time and a simple tap-in from Joshua King (the other sub) against a non-existent defender, evened it up and that's the way it stayed, a 2-2 draw.
The pundits made a point of mentioning the managers' age issue. The game featured the oldest in the league, Roy Hodgson at 70 versus the youngest, Eddie Howe at 40.
As your columnist is in the same age bracket as Roy, disparaging comments about his forgetting the subs' bench is there, don't go down very well. Younger supporters may giggle in agreement.
Next up, Brighton at home. I couldn't care less about the pointless 'rivalry'. Just three points for Palace, please.
Wilf King gives a live spectator's eye view below.
---
At least we didn't lose
I had some difficulty with my sub-heading; it could have been "This is what happens if you don't take your chances".
I travelled by train and taxi to the Vitality Stadium to see the game. I had read the pre-match build-up noting how Jermain Defoe has scored twice in each of his last three Premier League games against CPFC. I was more concerned when I saw Jon Moss was the referee and Kevin Friend the 4th official. Maybe today we would have some fair refereeing.
The stadium is nice and compact (away fans are allowed pitch-side) and the stewards are very friendly. Palace had a good warm up and the sun came out.
Palace played in a white strip. Within a minute of kick-off Bournemouth had the chance to go 1 up but thank goodness Callum Wilson couldn't convert the chance. The rest of the first half was uneventful and neither keeper had to make a save. Half-time 0-0.
What a difference in the second half. Within two minutes Palace were ahead. Yohan Cabaye won a free-kick which was emphatically dispatched by Milivojevic and Begovic watched it go in!
CPFC then wasted two glorious goal scoring opportunities - first Patrick Van Aanholt was put clean through by Zaha but couldn't beat Begovic and then Zaha also failed to beat the Cherries goalie. Little did we know how CPFC would rue these misses.
On 65 minutes Mousset pulled a goal back with some sloppy defending but still Palace had chances; Zaha was being barracked by the Bournemouth fans and his response was glorious to put CPFC 2-1 ahead.
Palace didn't waste a second with their chorus of "He's just too good for you". That should have been the winning anthem but I've watched Palace long enough to know never to take things for granted and sure enough on 89 minutes King arrived at the far post to tap in for 2-2. There was a feeling amongst the Palace fans of 'Not again'.
When I attend stadiums I have never visited before I wear my TWEETY shirt (based on the cartoon character and Brazil's colours) and he has NEVER lost (he was at Huddersfield in Palace's previous away match).
I cannot close without questioning why Roy Hodgson doesn't take advantage of his substitutes; Bournemouth's 2 substitutes made an impact and scored but RH stuck with his starting eleven. I desperately wanted to see Daly come on.
Eddie Howe's comments on Match of the Day about his use of substitutes are relevant (Bournemouth have scored in the 89th minute or later in each of their last seven league games). Mr Hodgson please take note.
---
Email Jamesey with your comments to jevans3704@aol.com
In Depth Jamesey's Veteran View Index