April 16 2018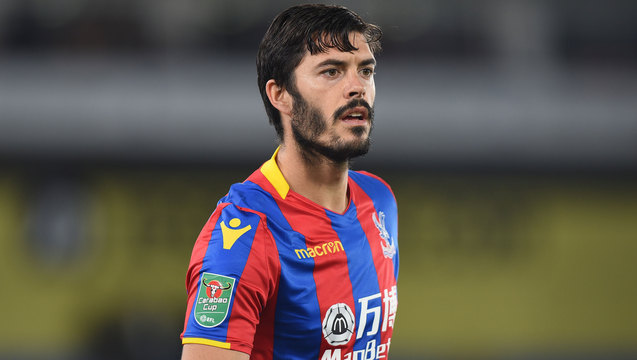 Crystal Palace moved three huge points closer to safety with a rollercoaster of a 3-2 home win over Brighton. Mike Scott assesses the players.
According to the matchday programme for the game, Zaha made his 300th appearance for in all competitions against arch-rivals Brighton. And what better way to mark the occasion than bag a brace against them?
A flying start saw him score after five minutes, although, by the end, Eagles fans were treated to customary Palace drama as the home side held on. As Hodgson put it, "We died a few deaths in the final few minutes"
Wayne Hennessey - 8
As he warmed up with some crossed balls in before the game, Hennessey looked as though he was intent on having one of his better games. And he definitely did that. By the final whistle, he had played a huge part in ensuring Palace gained all three points, with a great save to deny Dale Stephens. Neither of the goals were anything he could do much about. He came out well for crosses and knew when to hold play up. Some wayward clearances late on added to the drama, but otherwise a great game for the Welshman.
Joel Ward - 6
A mixed reaction greeted Hodgson on social media when the lineups came out at 2pm, especially with the news that Aaron Wan-Bissaka had been swapped out for the experience of Ward. He was responsible for the mistake that allowed Jose Izquierdo to score Brighton's second and get back in the game, but otherwise he did well enough, especially in the second half where a couple of key blocks stopped balls getting in the box. He was a decent outlet behind Townsend at times for crosses, although he did put in two wayward ones.
James Tomkins - 7
Tomkins chose a huge game to score his third league game of the season and you could see what it meant to him. After the game he pointed out how nervous he and the side were as the game progressed, but for the majority of the second half he dealt with threats, especially balls in the air, really well. Considering that for the last 20 minutes it was wave after wave of Brighton moves forward, it's to Tomkins' credit that very few clear chances came through the middle.
Mamadou Sakho - 7
Recent performances seem to have made the Palace faithful a little more edgy when Sakho is the last man. At one point in the first half he deliberately ducked under a high ball and it looked like he'd left a yellow shirt to nip in behind ahead of Hennessey. The keeper got there comfortably and, at that point, I realised Sakho does know exactly what he's doing and, even when he looks a bit shaky, he's usually got it under control. For much of the game, he cooly controlled the ball under pressure.
He could do nothing to prevent Brighton's second after Ward's mistake. A crucial clash with Glenn Murray stopped the ex-Palace man scoring another, too…
Van Aanholt had an up-and-down afternoon, having little to do in the first half, but finding himself dealing with almost constant pressure in the second as Brighton looked to strike down the right wing again and again. He dealt with it really well, playing out from the back well on a number of occasions and ensuring that Brighton had virtually no opportunity to make quick breaks. By the time balls came in from their right, there were eight or nine red and blue shirts in the box.
Luka Milivojevic - 8
Without doubt, Milivojevic is enjoying his finest period of form in a Palace shirt. The results have not always shown how good he's been, but he was instrumental in this victory. Not least because it was his sublime ball that landed on Zaha's head for the third goal of the afternoon for the home side. But, more than that, Brighton put a lot of pressure on Palace's back line and Milivojevic was there on countless occasions as an outlet to get the ball out of danger and to help break up attacks.
Yohan Cabaye - 6
In the first half, as Palace looked as much of a threat going forward as they have in any game this season, Cabaye was instrumental and was at the heart of most quick breaks and attacking play. When Palace were more on the back foot in the second half, he was a lot more anonymous and was swapped for Christian Benteke (4) with 20 minutes to go, who was bought on to help swap things around formation wise and cover corners. He did very little to help Palace ease the pressure with either of those things and really was on a hiding to nothing with this one.
James McArthur - 8
Palace played at a blistering speed early on and this suited the Scotsman down to the ground, who was an outlet plenty just behind Zaha and Townsend, whilst also hurrying the Brighton midfield and forcing mistakes and poor decision making from them. His energy seemed to galvanise the home side. In the second half, with Palace playing deeper, his bursting runs were key to their counter attack tactics, although on a couple of occasions he had the chance to shoot and seemed to shy away from the opportunity.
Loftus-Cheek gave Brighton players like Lewis Dunk a lesson in how to play with physical aggression whilst also playing with superb skill. In terms of running with the ball, holding up play and creating opportunities for Townsend and Zaha, this was one of his best games in a Palace shirt; at least a couple of times he went through players like they weren't there as he went on lazy, 30-yard runs. His interplay with Zaha on the edge of the box always looks threatening and it's great to see it as a feature in games again. With a little under 15 minutes to go, he was substituted for Jairo Riedewald (6) to allow the Dutchman to help sure things up. He did seem to help do that and it's good to see Hodgson responding to criticism after the Bournemouth game by doing exactly what people called for.
Andros Townsend - 7
Townsend and Zaha showed, in the first half an hour, the same skill and ability they did when they stunned Chelsea early in the season, when Hodgson first put them together as a front two. What Zaha offers with clever footing, Loftus-Cheek with power, Townsend offers with frenetic pace and the three of them seem to all offer something different enough to offer real headaches. Apart from that, his balls in were threatening – it was his delivery that ended with Tomkins scoring. It's just a shame that he didn't put in as many as he did against Bournemouth.
Wilfried Zaha - 8
Zaha wasn't afraid to wind up Brighton fans before the game with talk of shutting them up and, after the game, he pointed out that they were confident because Palace know they are the better side. Well, they are the better side in huge part because of the Ivorian, who now has scored more against Brighton than any other side in the league. His first goal set the place alight; his second was an excellent header than Benteke would have been proud of. But, more than that, he was the real outlet all game. He drew fouls, he looked threatening every time he had the ball. He was the difference between the sides. He got booked for protesting and, at the end when Brighton were pushing for an equaliser, his game management could have been improved, but otherwise a faultless display.