May 6 2018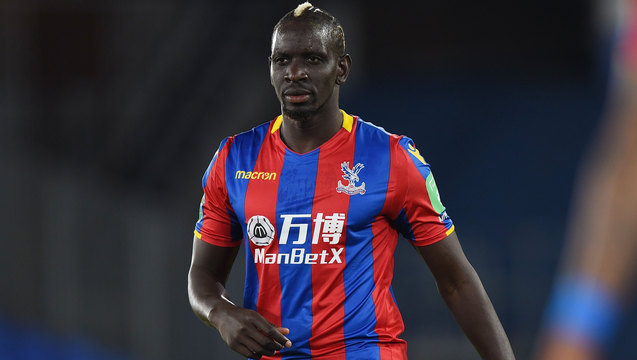 Crystal Palace ensured they will play a sixth consecutive season in the Premier League thanks to a 2-1 away at Stoke. Mike Scott gives his verdict on the players.
Palace came from behind to beat a Stoke side, knowing that realistically only a win would keep hopes alive of retaining their decade-long Premier League run going. With Patrick van Aanholt's late winner, the Eagles sent The Potters down and also made it mathematically impossible to get relegated themselves…
Wayne Hennessey - 6
A six out of ten may seem harsh on a man who was only beaten by a free-kick that took a cruel deflection that utterly wrong footed him, but as much as anything it is because of how little he was involved in the game. An early bit of drama saw James Tomkins nearly put Moritz Bauer in with a dire back pass and Wayne Hennessey was alert to get there; other than that, he had a quiet game. Excellent distribution was counteracted by the odd failure to come out and collect looping balls in the box, but solid enough.
Joel Ward - 5
The preferred right back for a fourth game in a row, Ward saw his afternoon cut short with what looked like a new aggravation to the issues that kept in out earlier in the season. Before that he did well enough keeping Peter Crouch quiet, although a poor early ball forward to no one that killed off a promising break summed up forward intent.
He was swapped out for Martin Kelly (6) (much to many fans' surprise, with Aaron Wan-Bissaka expecting to strip off) after 40 minutes, who slotted in nicely, keeping under the radar but doing nothing wrong and playing the role asked of him, an old fashioned right back with no risks taken.
James Tomkins - 7
With Palace starting sluggishly, Tomkins stood out from many of his teammates in the early exchanges, frustrating a spirited Stoke offensive line. He put in a sliding tackle inside the first 10 minutes that killed a promising attack dead and, aside from a worryingly short back pass early on, barely put a foot wrong. He was consistently the spare man at the back post for Palace set pieces too.
Mamadou Sakho - 7
Games like this have, in the past few seasons, been exactly the kind of banana skin that Palace would throw points away in. With the Tomkins-Sakho combination still yet to see a defeat, it was easy to see again how much more confidence runs through the side with the two of them at the back and, even at 1-0, you felt Palace would find a way to earn something.
Sakho didn't have his greatest display in terms of distribution, but he got the better of Crouch, who got wound up enough to end up with his hand on Sakho's throat at one point. And, really, aside from Xherdan Shaqiri, that neutralised Stoke's only real chance of a goal.
He got the winner that will be remembered for a long time by both Stoke and Palace fans alike (for very different reasons) and it was exactly what he deserved. He was the overlap option on countless occasions for Ruben Loftus-Cheek and, at times, was the only man consistently getting balls into the middle. Some of his final balls were a little short on quality, but they did offer hope at a time in the game when it looked as though Palace were just too laboured in their approach.
Luka Milivojevic - 6
The Serbian has been so influential in recent times, but he struggled to match his usual fine output against a very physical side, looking to break up play whenever possible. His distribution was uncharacteristically poor, with a wasted long, poorly-placed ball over the top in the second half that killed off a promising break from WILFRIED ZAHA summing up his day. He did, however, marshal the area in front of defence well though and frustrated the home side, which did a lot to help see three of the four Stoke midfielders get carded.
Yohan Cabaye - 6
Palace were on the back foot for much of the first half and they stayed in the game by breaking the game up and not allowed Stoke to get any sustained pressure going. Cabaye can take a lot of credit for this, with the Frenchman taking on a conservative role and ensuring things kept tight. He skied a shot from a promising short corner a few minutes before half-time, but otherwise had little influence in the final third.
After a knock, Cabaye was swapped out on the hour mark for Christian Benteke (7), who provided the power and strength needed to hold things up while players could catch ZAHA and Loftus-Cheek up and meet their balls in. His touch has been better in other games and he fluffed a couple of shots, but his hold-up play was exactly what was lacking before his introduction.
James McArthur - 7
McArthur struggled for influence in the first half, with a real disconnect happening between those players breaking at speed and those midfielders trying desperately to sprint to the box to be on the end of any balls in. He did help make Erik Pieters' afternoon a tough one, but only really came into the game once tactics had been changed by Hodgson. His equaliser, which came just five minutes after the reshuffle, was an excellent show of skill from the Scotsman too, who still had plenty to do as he received the ball.
So much of the joy Palace got came down the left, with Loftus-Cheek and Van Aanholt providing an excellent partnership at times, and Loftus-Cheek and ZAHA at others. ZAHA dragged a shot wide after quarter of an hour that began with the England international making one of his lazy, powerful runs.
On a couple of occasions, especially a perfect ball from the right from Townsend, Loftus-Cheek found himself in the right position to score but he wanted just slightly more time than he had to make the right decision. He scuffed that cross despite it falling to his chest inside the six yard box. But, in general, he had as big an impact on the game as anyone.
Andros Townsend - 7
With Palace having a relatively poor first half, Townsend was the only real outlet. ZAHA was man managed well, leaving Townsend to be the central figure in the few Palace breaks of note. He earned several corners, put an inch-perfect ball in to Loftus-Cheek in front of goal, set up ZAHA for a shot he put wide early on and generally added the only real urgency the visitors could muster. He had a quieter second half than some of his teammates who upped their game with the tactical changes, but his pace did cause the lumbering Stoke side issues throughout.
He was subbed for Jeffrey Schlupp (5) with a couple of minutes to go, to ensure the victory.
WILFRIED ZAHA - 6
Stoke clearly had a game plan for dealing with Palace's false nine pairing and, mainly, it was to mark ZAHA out of the game. They defended deep, leaving ZAHA little opportunity to run at the last man and his frustration in the first half was plain to see. Hodgson's introduction of Benteke changed things and, fittingly, he helped set up the winner. It won't go down as his finest game of the season, but he helped get the job done.