May 11 2018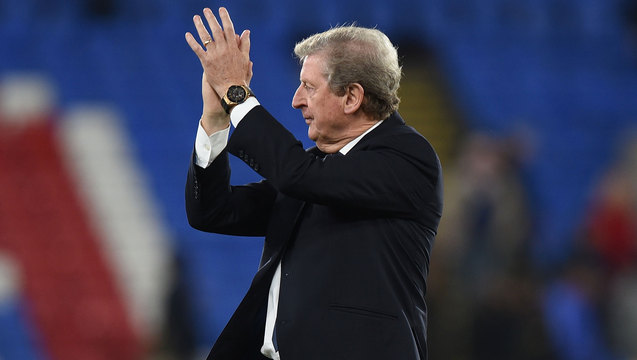 A review of the best Crystal Palace news involving Roy Hodgson, James Tomkins, Steve Parish and a transfer rumour, by Matt Sillett.
Hodgson honoured to be shortlisted
Palace manager Roy Hodgson says he finds it an honour to be shortlisted as Manager of the Year for the Premier League.
The Croydon-born boss said: "The people who choose that are your peers, the people who choose that are people who know what you're going through.
"If at the end of it when they produce a list of names of candidates for someone who could possibly be crowned manager of the year, and you are on it, you've got to be very, very proud of that, you've got to be very grateful for the recognition."
Parish on new signings
Eagles supremo Steve Parish has already set his sights on bolstering Palace's squad with fresh additions.
"I'm always accused of not planning," he said. "But we've been planning for ages. We've got the early transfer window, so we've got to get cracking.
"We're working on it. We obviously spent a lot of money over the previous two years and people can see that we've got a good squad but if you stand still you go backwards it's as simple as that – so we won't be standing still.
"There's additions and improvements we want to make so that's what we're going to try and do."
Tomkins loves Roy's style
Defender James Tomkins has hailed Roy Hodgson's man-management skills.
Tomkins likes the way Hodgson has the whole squad united and how he keeps out-of-favour stars happy.
"Roy's experience means he knows how to deal with footballers," he said. "Managers can't ever keep everyone happy but not many others I have worked with have done it better than Roy.
"Even people who aren't in the side feel they are part of what we're doing and contributing.
"Sometimes that just comes from talking – having a word with the injured lads if they're doing rehab in the gym, or saying hello to people who work around the training ground. They're small things, but important."
Antonio to Palace?
According to reports in The Sun and the Daily Mirror, Palace are readying a bid for West Ham attacker Michail Antonio.
Antonio signed a new contract with West Ham last May so it could cost Palace to try and lure the 28-year-old to Selhurst Park.
He has had a difficult season with injuries, although he did win West Ham's player of the year for the 2016/17 campaign.