August 9 2018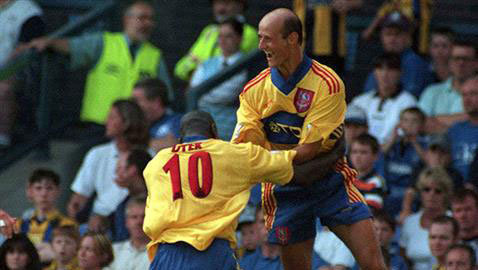 Crystal Palace fans are getting used to the arrival of big names, but the first star signing of the Premier League era was Attilio Lombardo.
Lombardo joined on August 9, 1997, in a £1.6m deal from Juventus for Palace, shortly after helping the Italian heavyweights win the league title and reach the final of the Champions League.
Nicknamed the 'bald eagle' it didn't take long for the speedy wideman to make his mark on the club on the way to becoming a genuine cult hero.
Palace headed up to Everton for their 1997/98 top-flight opener and Lombardo made his debut alongside fellow new boys Kevin Miller and Paul Warhurst.
It was Warhurst who combined with Lombardo to put the Premier League newcomers ahead at Goodison Park with a sublime one-two that resulted in the Italian's calm finish beyond Neville Southall.
The fleet-footed winger was then hauled down in the Toffees area and Bruce Dyer converted the resulting penalty kick for 2-0 and Palace were in the driving seat.
Everton grabbed a late consolation through Duncan Ferguson and ran out of time to mount a comeback – but this was Lombardo's day.
Despite a three-month spell out injured, Lombardo went on to score four more times during Palace's relegation season and he even had time to take the caretaker manager role.
He remained loyal to Palace even though they dropped down a division, but financial pressures meant in January 1999 he was sold to Lazio where he helped Sven-Goran Eriksson's side win the UEFA Super Cup, Serie A and two domestic trophies.