August 12 2018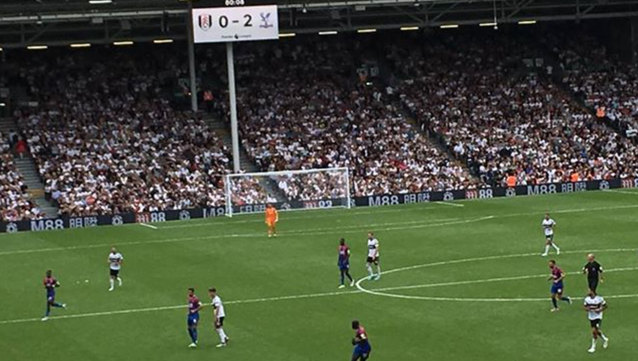 Another season of football in the elite division saw the Eagles visit newly promoted Fulham and proceed to a 2-0 victory. Jamesey watched the game on screen while the intrepid Wilf King sent his report from Craven Cottage
"Oh, it's a long, long while From May to December"
The above lyrics from Kurt Weill's "September Song" were originally composed for an unrequited love story but could equally reflect the feelings of football lovers during the summer break, writes Jamesey.
Despite the most enjoyable World Cup since Italia '90, in my view, it is still an overwhelming pleasure to greet the start of another season.
It's just two years ago since your columnist walked across Bishop's Park to Craven Cottage. The occasion was a pre-season friendly against the Cottagers. Despite their lower division status, the home side won the game 3-1 and deserved it against a distinctly off-colour Palace side.
I fully expected to be repeating the walk across Bishop's Park (August 11) but was told by the Box Office that I lacked the necessary loyalty points. I didn't pursue it any further.
Being a season ticket holder for several decades used to almost guarantee a ticket for any game but no longer. Times change and no complaints as I rarely go to away matches and those who do so thoroughly deserve priority.
As for the game itself, one would have to be an ultra-critical Eagle to find anything to moan about.
It was an excellent and entertaining game of football with both teams going flat out for victory. No messing about with caution or parked buses.
My only query is why, as happened quite often last season, Palace tended to sit back in the first period and let the opposition come forward.
It made the home side look far more superior than they really were although Jeffrey Schlupp had already put the Eagles a goal ahead by the half-time whistle.
In the second half, the visitors stepped up the momentum and looked like adding to the total.
Nevertheless, Fulham's blank scoreline was very much helped by a magnificent performance from the newly-confident Wayne Hennessey (see also below).
One hesitates to pick out any particular players from an all-round excellent team effort but Wilfried Zaha and Aaron Wan-Bissaka were both full of skill and determination.
Eagles supporters should be very, very proud of these two, both made and polished in Palace's youth set-up…two of our own to be cherished.
Wilf King continues with his Craven Cottage view below.
---
So what was I hoping for at Craven Cottage in the first match of the new season?
Crystal Palace had taken part in a good pre-season and scored plenty of goals. We had kept Zaha and lots of players had expressed a wish to be part of the first team.
On my journey to Putney I would have settled for a goal so there was no repeat of last season, but to win 2-0 exceeded my expectations.
EVERY Palace player gave 100 per cent but Hennessey and Wan-Bissaka are worthy of special praise.
Wayne played with confidence and his SEVEN (7) saves merited him being voted Man of the Match; his 6th and 7th saves in the second half were particularly outstanding. Congratulations Wayne and it was nice to see Roy Hodgson's comments.
Looks like Wayne will be in goal against Liverpool.
As for Wan-Bissaka, the young man is never beaten. I saw the pre-match comparison with Sessegnon; Ryan is not in the same class.
Aaron's run for the second Palace goal was extraordinary; he was tackled, got up, won the ball back, continued on his run and played a sublime pass for Wilf to score. I am looking forward to watching his development. It should be fun.
It wasn't until I got home that I realised Crystal Palace are 3rd in the Premier League until Sunday at least.
Last season I put a bet on Palace having a top-half finish (which Chelsea ruined at Newcastle) so should I go for a repeat or a Top 6 finish this season? The future is bright in SE25.
Wilf King
---
Email Jamesey with your comments to jevans3704@aol.com
In Depth Jamesey's Veteran View Index