September 2 2018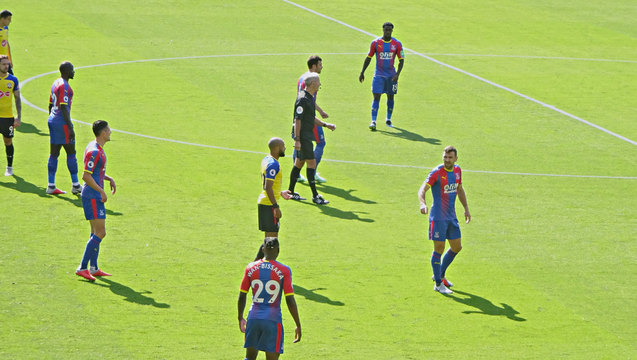 Glorious summer weather greeted the season's first daytime home league match against Southampton. Jamesey reports on a disappointing 2-0 result.
The almost customary full house greeted the visit of the Saints although the Holmesdale bottom left (from where I sit) had a different look with the departure of the organised Holmesdale Fanatics.
I am not sure what brought this about but it certainly gives the stadium a different and less noisy feel to it.
After the disastrous start to the '17-18 season it certainly looked as though the current campaign might be more successful after the barnstorming opening away 2-0 win against Fulham.
However two losses to Liverpool and Watford followed although a 1-0 away win at Swansea in the League Cup with a goal from striker Alexander Sorloth (Aug 28) cheered Palace supporters somewhat.
Incidentally I watched this match on a French TV station and it is a total mystery why our Gallic cousins should be interested in screening a relatively obscure British cup game?
I hate the expression "winnable game" but the Sept 1 fixture against the Saints certainly fell into that category.
It was a shock to learn that Wilfried Zaha was sidelined because of a training injury and the media were quick to latch onto this and its serious implications for CPFC.
As all supporters know, Wilf has become the big star in SE25, as a club talisman and his massive contribution to success on the football field.
Nevertheless it is worrying that one player should be important enough to be such a crucial element in the Eagles' performance. After all there are 10 other blokes - are they all devoid of match-winning abilities?
Considering the fouling and bad treatment Wilf is given it is a wonder that he is not injured more often. Maybe he's just lucky or just tough enough to rise above the malice.
Anyhow James Tomkins was also absent through injury and Martin Kelly replaced him while new man Jordan Ayew partnered Christian Benteke.
Unsurprisingly the Palace team looked oddly disjointed with two big strikers although the ever-industrious Andros Townsend was as busy as ever and Aaron Wan-Bissaka was always dangerous.
It was another fine game from Wayne Hennessey who not only made some crucial saves but even stopped a penalty. Was that a first for Palace? Wayne has certainly upped his game this season so far.
Anyone expecting the Saints to be easy meat after their poor start would be disappointed. They were the better team throughout the first period and a couple of minutes into the second half they took advantage of some defensive confusion and scored.
The Eagles upped their game although Benteke still seems sadly bereft of confidence and could surely have made better use of at least two badly-directed headers.
Southampton rubbed salt in the wounds with a second goal in time added on but there it was - a miserable day all round for the red-and-blues.
It was a pleasure to hear one of our Old Boys being interviewed at half-time - Darren Ambrose was a great fans' favourite during his three seasons in SE25.
Darren scored 20 goals in his 2009 first season, pretty darn good for a midfielder but he'll probably be best remembered for his sensational 35-yard goal at Old Trafford which, along with Glen Murray's effort, took the Eagles through to the League Cup semi-final at Man Utd's expense. Always a delight to recall that one!
More immediately, are critics right to call the current Palace line-up a one-man team? The lame performances in the absence of Wilf certainly add weight to that accusation.
---
Email Jamesey with your comments to jevans3704@aol.com
In Depth Jamesey's Veteran View Index