September 3 2018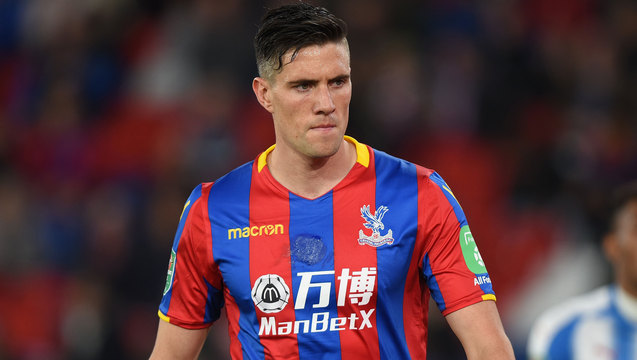 A dire result at home saw Crystal Palace lose 2-0 to Southampton. Mike Scott gives each Eagles player his scores out of 10.
An injury to WILFRIED ZAHA in training the day before the game was the talking point at 2pm when the sides were announced. And the soul-destroying stat about Palace not picking up a point without him continued into a second season, with the Eagles having a really off day...
Wayne Hennessey - 7
Hennessey's renaissance continued, with another solid performance that included a fine penalty save. He stopped a Luka Milivojevic header flying into his own net and made a couple of other fine stops. His positioning could be questioned for the first goal, but really the damage was already done by the time Danny Ings had the ball. Possibly, again, Palace's best player on the pitch.
Back from his suspension for a professional foul against Liverpool and after a decent game against Swansea in the League Cup, Wan-Bissaka had another solid game, although the side were playing very narrow and too much went down the middle for him to be too threatening going forward. The first half an hour or so he did get some joy down the flank, but he had little support and links up with Townsend were few and far between. He got a booking for the handball for the penalty too.
Martin Kelly - 5
Kelly was in again for the injured James Tomkins and, for much of the first half, didn't really put a foot wrong. He put in some decent headers and clearances, particularly when the ball was pinging around in the box a couple of times. He played his part in the mistakes that led to Southampton's first, but should have had more cover.
Tomkins' assurance, relationship with Sakho and Hennessey and his heading from set pieces were all missing though. Kelly just didn't have the same qualities in this game.
Mamadou Sakho - 5
This wasn't one of Sakho's finer games. Early on, he put Hennessey under extreme pressure by making a hash of a simple backpass; he got out of the way of the ball that was looped up for Danny Ings and Shane Long for the first goal. He did look solid in possession, especially when he was the last man, but he still looked a shadow of his normal self without Tomkins alongside him.
There was a period in the second half, after Palace went one down, that they pressurised a worried looking Southampton team and Van Aanholt looked to be causing trouble down the left. The problem was the lack of quick and direct play, with the team trying to thread the ball through the middle. This meant his usual bursts of speed ended with dispossession after a pass in field. He had virtually no support from Jeffrey Schlupp in front of him, which really didn't help.
Luka Milivojevic - 4
There's been plenty of conjecture about Milivojevic again, because he had a poor game, both losing the ball too early and providing some poor set pieces. One corner was over hit so far that it sailed off for a throw-in down the other side.
He looks like he's missing Cabaye and he'll need a change of personnel or tactics to look comfortable again, because he's being forced to be more of a creator than he is used to, at the expense of his role in front of the back four.
James McArthur - 7
Perhaps the only outfield player to challenge Hennessey for the title of Palace's best player on the day, McArthur chased everything in a bid to push some life into the home side. With the majority of Palace moves going down the middle, he was involved in most of them, although it was very congested in front of the Southampton back line and, too often, the moves came to nothing. He did hit the bar and looked threatening, but he can't do it alone.
Jeffrey Schlupp - 3
One of Schlupp's worst games in a Palace shirt, he was virtually anonymous, except when it was obvious he was missing from the position Van Aanholt needed him to be in. Too often he made no effort to run into space and moves broke down because there was literally no one available to take the pass. The fans were understandably frustrated when it was not him he made way first up, but Townsend.
An afternoon to forget for Schlupp, which ended on 75 minutes when he was swapped out for Max Meyer (7), who looked like Palace's only real threat in the game and is crying out for a starting place against Huddersfield.
Andros Townsend - 5
Like Van Aanholt, Townsend was on the periphery of the game, aside from a few early crosses, because there was a real lack of width to the Eagles' forward play. He was part of the problem of the midfield looking too lightweight too; they've looked second best in most challenges for two games in a row now. His efforts were as great as ever, but he was ineffectual as times.
Much to people's surprise, he was swapped instead of Schlupp for Cheikhou Kouyate (7) with 20 minutes to go, who looked sharp. His introduction gave Palace much more of an edge; he had a long-range shot with tested ex-Palace keep Alex McCarthy as soon as he came on. He has to start against Huddersfield.
Jordan Ayew - 6
Opinions on Ayew for his debut were mixed. On the TV they appeared to make a lot of him being muscled off the ball too easily and too often, but at the game he looked to be doing all the running that you'd hope to see. He was involved in a lot of the early threat, even though his end product was often lacking. He might well still be short of match fitness; but the performance until his substitution looked promising.
He was taken off for Alexander Sorloth (5) with a quarter of an hour to go, which left the service for the big men pretty much reliant on Meyer. As a result, again, Sorloth had little chance to impress.
Another game, another load of missed chances. The header straight at McCarthy at the end of the game had Palace fans screaming in frustration, but he missed three good chances before that and went down too easily in the search for penalties twice. His hold play looked good, but there was no one there to take advantage. He's on thin ice with a lot of fans, whose patience seems exhausted.