September 11 2018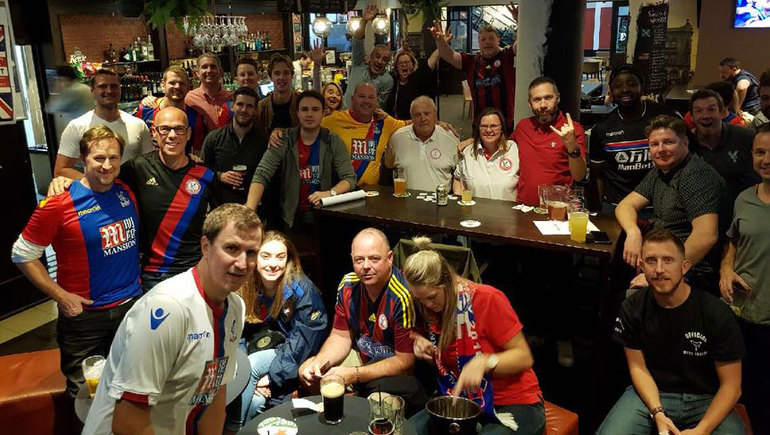 Crystal Palace have passionate supporters all over the world and we're profiling the best fan clubs. We kick off with Jimmy Fletcher from the CPFC Sydney Supporters group.
So what's the name of your group?
We are the Crystal Palace Sydney Supporters Club, each major city in Australia has its own group but we cover the state of New South Wales.
Who set it up?
The club had its first major meet-up in 2010 for the infamous last game of the season against Sheffield Wednesday at Hillsborough. At the time there was no network established so the meet up was organised through the holmesdale.net.
A lot of the credit for creating the group goes to an Australian named Chris Jordan aka Jordo. As an Aussie man on the lookout for team to support with no ties to a particular area he somehow managed to narrow it down to either us or Nottingham Forest. Legend has it that in the following weeks he found an early 90s Palace shirt in a charity shop in Sydney, after that his decision was clear.
Do you get over to Selhurst Park often?
Due to geographical reasons, popping over to Selhurst Park can be problematic. That said there are always people coming back and forth from England for various reasons, whenever this happens a detour through SE25 on a Saturday is always high on the agenda. The group has proved to be a valuable resource for those looking to get their hands on tickets when heading over to the promised land.
The biggest group trip over was for the FA Cup final in 2016, around 10 of us made the journey. We are all patiently waiting for the day that Palace announce their pre-season tour of Australia.
Where do you watch games and times you meet?
Over the past two seasons we have watched our games at the aptly named Palace Hotel in the centre of Sydney. Your typical kick-off time during the season in 2am so you've got to be dedicated or heavily under the influence to make it down. At the start and end of the season, kick off times can become slightly more favourable as the clocks change, a 10pm kick off on a Saturday is about as good as it gets.
The midweek evening kick-off's in the UK are even more fun, what's wrong with going to the pub at 7am before work?
What's good about your venue?
Licensing laws are becoming stricter and stricter in Sydney, so it is becoming increasingly hard to find a place that will stay open into the small hours and let a bunch of English people shout at a TV screen. Fortunately the Palace Hotel has been very accommodating in that aspect and welcome us at all hours and states of inebriation. They have also been kind enough to put some money behind the club to assist us with various projects.
...oh and it's called the Palace Hotel!
How many people do you get watching games?
Because of the late kick-off times it can be challenging to get numbers down the pub for every game, however we try and have at least one big meet a month. We have a core group of around 20-30 people who make regular appearances and for the big games we can get around 50 people.
For me the biggest turnout and most memorable game was for the Play-Off Final against Watford. There must have been around 150 Palace and Watford fans crammed into the pub. For the really big games everyone comes out of the woodwork, someone even brought their nan down.
Palace being in the Premier League definitely makes it easier to watch matches as all games are shown live. There was a time in the early days when a few brave souls gathered in the pub at 2am to listen to our game on the radio, thankfully things have improved since then.
Have any ex-players or big names come along?
We had Steve Parish at the pub a few years ago, he was happy to have a few schooners with us an answer some questions. It was during the transfer window so he had to keep popping out every so often to answer calls from Ian Holloway who was the manager at the time... trying to get Jimmy Kebe over the line no doubt.
We've also had ex-manager Alan Smith swing by a couple of times, he has some great stories from his time at Palace especially from the Simon Jordan era.
Funniest or weirdest moments?
One of the trademarks of our founder Chris Jordan is his ability to fall asleep in the pub, many 0-0 bore draws have seen Jordo snoozing under the big screen.
We've also had a regrettable tattoo decision by one of our members. He was so inspired by a 2-2 draw while we were in the Championship that he decided to show his loyalty by finding a 24hr tattoo parlour. The eagle tattoo remains unfinished to this day but Seany is willing to get his ankle out on command to prove the story.
Do you organise any other non-matchday events?
We aim to have an Australia wide national meet-up each year to bring all the Palace Supporters groups together. This year the host city is Brisbane, we normally make a weekend out of it, go to one of the A-League games, sample some local brews and watch the Palace game that night.
Any connection with other teams' fan groups or local community?
We play regular 11-a-side matches against other Premier League supporters' clubs, the biggest of the season is against Brighton to raise money for the REMF. Last year we had a film crew there putting a piece together about the event and capture the action, for those with a spare three minutes it can be seen here.
Recently we have been working to raise money for an Australian grassroots men's Mental Health Charity called Mr Perfect. We organised a 5-a-side tournament (video here) for other Premier League supporters clubs with all proceeds going towards the charity.
If people live in the area or are visiting, what's the pub address?
You can find us at the Palace Hotel, 730-742 George Street, Haymarket, NSW 2000.
Everyone welcome...
Do you have any social media accounts?
Best way to keep in touch with what is going on is to join the Facebook group.
You can also follow us on Twitter and Instagram.
To finish off, do you want to add anything else?
We now have our very own podcast called Exiled Eagles, which gives our perspective of all things Palace from Down Under. Available on Acast and iTunes.
Make sure you subscribe.
Thanks for your time Jimmy!
If you run an overseas Palace supporters' group, then let us know by emailing editor@holmesdale.net and we can feature it.