September 17 2018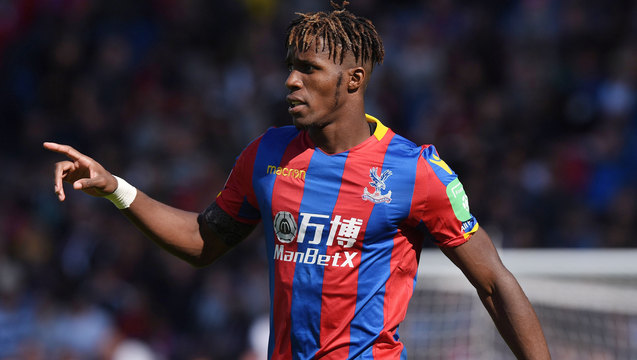 Crystal Palace made heavy weather of their win over Huddersfield Town but still took three points back down south. Jamesey watched the match on his home screen while Wilf King joined the travelling supporters at the John Smith's Stadium.
After blowing away Fulham in the new season's opener, CPFC have lost three league games on the trot so an away game against tough guys, Huddersfield Town, posed a formidable hurdle, writes Jamesey.
Despite looking distinctly ordinary in the opening stages of the game (Sept 15), There was always our jewel in the crown, WILFRIED ZAHA, on the field…to coin a phrase, "where there's a Wilf there's a hope".
The Palace team looked disjointed and tactically confused.
The Terriers decided to produce their best performance of the season, according to boss, David Wagner. Their strong wing play, pin-point crosses and powerful headers were a constant threat to the Eagles defence.
Town were allowed to play to their strengths and to be brutally honest, a stronger and more skilful side would have buried the game before half time. The home side, however, were unable to capitalise on their advantages with a whole catalogue of missed opportunities.
Even the much-improved Wayne Hennessey looked nervous at times and his uncertainty seemed to affect his team mates.
Fortunately the Eagles' not-very-secret weapon struck. Despite the customary succession of fouls, Wilf decided enough was enough and as the minutes ticked towards half-time, wove his way through Town's defenders on the left and struck a lethal shot into keeper Lossl's net.
After so many close calls, the mental damage to Town must have been enormous. But there it was - one piece of football brilliance and Palace were one up at half time.
The second period was a question of teeth gritted, everything crossed and don't let them pass!
This supporter hardly dared watch the last 10 minutes or so but the Yellows stayed firm and three lovely away points took Palace to a more comfortable mid-table position.
It was surprising to hear Wilf complaining about the level of trips, kicks and niggles he suffers in the post-match TV talk. Since he entered top-flight football as a teenager he is getting the treatment that any seriously dangerous forward can expect.
He did, however, refer to the atrocious foul on the back of his shin during the Watford match. That deliberate attack on the cruciate ligament could have seen him out of action for a long time, even for ever.
A yellow card was totally inadequate for the seriousness of that and the perpetrator was a disgrace to any fellow professional.
SO............Were Huddersfield unlucky to lose to Crystal Palace? writes Wilf King
Not really. If you do not take your clear chances you won't win a match. Mounie missed a Free header in the early stages of the first half and Mooy launched a ferocious volley that pinged a post and came out late on in the second. What happened in between you want to know.
Huddersfield v Palace are always lively matches but, of course, Eagles fans know what the Terriers can do to ZAHA. All the Palace fans were excited but nervous to see WILFRIED named in the starting eleven.
There was another surprise for them when the team came out in the New third yellow strip, released for the first time at this match. Like many other fans I was wearing the white with red and blue stripes away strip!
So how long before a Huddersfield player tried to cripple WILFRIED? Not long. Wilf took a pass and set off down the left wing and Hey Ho, in came a sliding tackle from Jorgensen that stopped his run and only earned him a yellow card (nothing less than expected).
Sadly, WILFRIED took his revenge moments later and also got a yellow. From then on Huddersfield fans booed every time Wilf had the ball.
WILFRIED exacted proper revenge when he scored a sublime goal in the 38th minute after taking a pass from Ayew. Strangely the John Smith's Stadium went very quiet!
Halftime 0 – 1
Huddersfield came out very purposefully after the break and for most of the second half it was 'backs to the wall' for Palace.
Eagles fans were screaming at Roy Hodgson to "freshen it up" with substitutions but he held firm and only brought on Schlupp for Townsend in the 90th minute.
To be fair RH got it spot on. Palace had one further chance to score when Wilf laid on a glorious pass to McArthur, who was unmarked and in space, but he put his shot wide.
This match was not only about ZAHA; it was nice to see Cheikhou Kouyate play well and give his shirt away at the end.
Jordan Ayew was industrious all afternoon.
Aaron Wan-Bissaka amazes me every time I see him.
Hennessey had a quiet game. It was a team performance with 3 points.
Full time 0-1.
A satisfactory afternoon and no Palace player was seriously injured!!!
I have refrained from printing the usual Palace chant when we go 'up North' but you can guess.
---
Email Jamesey with your comments to
jevans3704@aol.com
In Depth Jamesey's Veteran View Index