December 2 2018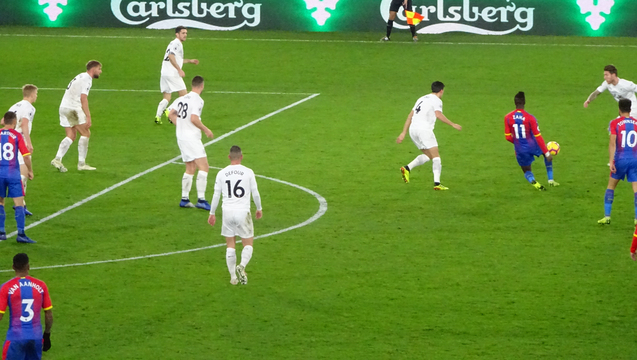 Plenty of drama at Selhurst for the Burnley game - an important occasion for the Eagles to come good. And, as Jamesey and Wilf King relate, they certainly did with an emphatic 2-0 win.
I wasnít sure how to react to last weekís 0-0 draw against Man Utd, writes Jamesey.
Was it a gritty triumph to get the Eaglesí first point against the Red Devils at Old Trafford since Lord-knows-when?
Or was it a dismal failure to secure a victory with the habitual squandered goal-scoring chances?
Personally I go for the first alternative although itís all history now and the Eagles faced Burnley at home (Dec 1) for what many believed was a make-or-break match as Palace sunk relentless down the table towards the Big R.
Admittedly Burnley werenít having a good day at the office but the Eagles looked superior in every area right from kick-off.
Max Meyer performed like the creative midfield playmaker we all hoped he would be, laying on intelligent passes and nearly scoring himself. Perhaps he has absorbed the lessons that small and light players have to learn in looking after themselves in the bruising world of the Loadsadosh League?
When James McArthurís centre (?) fortuitously beat Clarets keeper Joe Hart one could almost hear the collective sigh of relief above the stadium - the first goal of the season in open play and, hopefully, leading to three valuable points.
Burnley struggled to react but created almost no chances and after the break the bombardment continued until minutes from the end when an Andros Townsend special defeated Hart and made it 2-0.
We could moan that out of all the chances created Palace should have converted more and won by several goals.
But, hey, letís just be satisfied with a great performance and repeat some of that terrific football at Brighton on Tuesday (Dec 4).
It was interesting to see the Holmesdale Fanatics in strength back in Block B. They will doubtlessly claim a lot of credit for the victory although I believe that noisy support doesnít make for good football performances.
I always liked the HF and it was usually exciting to hear their high-decibel backing although as an older supporter I would have hated to be in the middle of it.
They disappointed me when they decided somehow to persuade the chairman to allow them to displace many long-serving season ticket holders and move to Block E next season.
That was mean and inconsiderate. They could have left well alone and stayed where they were and displayed their enthusiastic support for the benefit of the club as they have been doing for many years now.
---
I enjoyed that.
What to expect when the team with the Premier Leagueís worst defensive record comes to South London to play the team with the joint worst goal scoring record. Not a sublime performance from the Eagles, writes Wilf King?
I could eulogise on Palaceís style of play until Christmas; the passing was immaculate; every player was worthy of Man of the Match; 29 shots with 9 on target; how did Wilfried Zaha not score?
Hart made six great saves otherwise it could have been 5-0 6-0 7-0. I had a lucky mascot in my daughter Anita; got to get her back when we play Manchester United!
The two Palace goals were different in their execution - of course McArthur meant to put it in the far corner beyond Hart but what a clever piece of play by Meyer.
As for Townsendís 70mph screamer - just delightful. Andros works so hard and it was well deserved.
The atmosphere in Selhurst Park was overwhelming, proving that the Holmesdale Fanatics should be back in Block B; even the drum was in tune!
All in all it was a Perfect Palace Day.
Interesting that Brighton "rested" Glenn Murray at Huddersfield but donít worry with another 29 shots we might beat our South Coast "neighbours" 5-0 (even without Andy Johnson).
---
Email Jamesey with your comments to jevans3704@aol.com
In Depth Jamesey's Veteran View Index