January 13 2019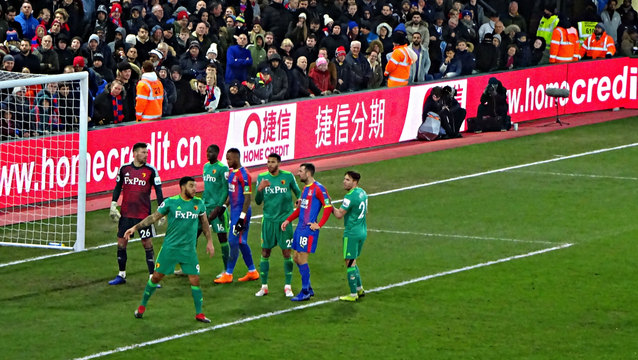 The Selhurst faithful still await an end to a home goal drought, But a Watford own goal was the only reward in a 2-1 home defeat. Jamesey reports.
When Watford hit the post twice almost before the echo of the ref's opening whistle had died away, the omens didn't seem too promising (Jan 12).
If I were of a superstitious nature I would be seriously worried that a powerful ill-wisher had put a hex on Eagles goal-scoring at Selhurst this season.
Game after game, chance after chance, even ones that Great Aunt Matilda could have flicked in with a delicately laced boot, are squandered.
At each home game we faithful fans await the goal that our build-up play sometimes deserves but today's affair was no different.
A one-on-one against the Hornets keeper, the sort that Wilfried Zaha used to gobble up with ease was saved by Ben Foster. Yes, Foster is a class keeper but even so it looked like easy meat for him to digest.
Even less forgivable was the usually dependable James McArthur's failure to tap into an open goal. The Curse of the Selhurst Home Goal continued yet again in this fixture.
Boss Roy Hodgson retained Jordan Ayew as a striker as his recent form well deserves but otherwise the formation was much as before. The Eagles, however, had the rare luxury of two returning-from-injury strikers on the bench - Christian Benteke and Connor Wickham.
The first half was a scrappy business and to this observer, Watford always looked more likely to breach the Palace defence and score while Wilf's performance was way below his usual standards.
Nevertheless, luck was with the red-and-blues when after a scramble in the Hornets' box, the ball bounced in off Craig Cathcart. It needed an opposition player to do it but Palace went in 1-0 at half-time.
"Own Goal", bellowed the speakers. "Own…"….. "Goal", we replied. Well we'd nearly forgotten the names of any CPFC players to sing.
Vicente Guaita looked commanding in his area, marshalling his defenders and calling for the catch when needed so it was not happy news when he went off injured just before half-time. Wayne Hennessey came on from the bench.
Palace looked brighter in the second period but in the 67th minute Cathcart redeemed himself by scoring into the same but correct net. It was 1-1.
Not long afterwards, Hornets sub, Tom Cleverley, smashed a volley into the top corner while Hennessey stood rooted to the spot. World-class shot or naff goal-keeping? We will all have differing views on that question.
That's the way it stayed and the 1-2 result took Watford into 7th place in the StacksoMoulah so credit where it's due to a small club similar to our own.
My friend Wilf King informs me that this was the Hornets' first double over CPFC since 2002; not a nice statistic.
Two London derbies to come quickly in cup and league so will the Eagles claw back what looked like a life-saving crawl up the table or slip back into the real relegation mire before too long?
---
Email Jamesey with your comments to jevans3704@aol.com
In Depth Jamesey's Veteran View Index