January 20 2019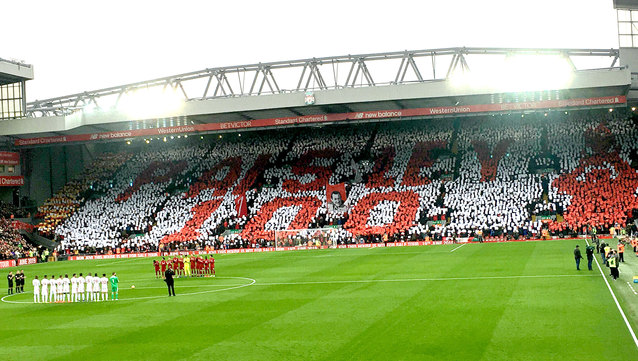 Liverpool matches are traditionally becoming a little special these days. Jamesey watched in London while Dan Crafter joined the travelling army in Anfield for a closely fought 4-3 defeat.
Were I still a travelling man which regrettably I am not any more, this was a game I would have loved to have attended. But a screen had to suffice, writes Jamesey.
First, the Julian Speroni issue. A good deal of flak has been aimed at our 3rd choice keeper but to be suddenly elevated from a sort of much-loved club mascot and thrust into the cauldron of a massive game like Liverpool away was a huge challenge.
Jules did his best as always but unfortunately he wasn't really ready for it and was at fault a couple of times. No hard feelings from this supporter but having weathered a striker crisis and now hit a keeper crisis, CPFC needs some top-class, young cover quickly.
Needless to say Palace played a defend-and-counter-attack game. Roy Hodgson would have been foolish (which he isn't) to do anything else.
Watching this type of game can be harrowing for an Eagles fan.
Wave after wave of red attackers swarmed towards the Palace goal until it seemed only a question of time before a goal came.
And happily it did - but for the Eagles! A Wilfried Zaha cross was expertly finished with a lethal Andros Townsend shot. It was the first serious attack of the game from the boys in white and the scoreline was 1-0 to the visitors at half-time.
Everyone knew that the story wasn't going to end there and a couple of Scouser goals early in the second half gave the home side the lead.
James Tomkins headed in a corner in the 65th minute and it was even-steven again at 2-2.
A defensive mix-up and a dreadful mistake by Speroni gave Salah the chance to bag his second which he did with sublime skill. Another goal from the Reds in time-added-on pretty well wrapped it up although substitute Max Meyer scored a CPFC consolation in the dying seconds.
And there it was a 4-3 defeat but a dogged and excellent performance from the Eagles. The team stuck to their shape and played to their strengths and Liverpool had lucky deflections for two of the goals.
On the bright side of the afternoon, the Eagles scored as many goals as Liverpool had let in all season and were applauded off by the home fans. Did somebody say: The Reds are always magnanimous when they win? Possibly so.
Inevitably we long-suffering home supporters implore the boys to reproduce some of that form at Selhurst. Please, lighten up the skies above SE25 between now and May.
---
Luckless at Liverpool
The win at Manchester City just before Christmas fuelled my desire to go to another away game and with Liverpool being the league leaders, it was too much to resist, writes Dan Crafter.
My son and I met Wilf King at Euston station which was awash with Manchester United, Brighton, Liverpool and Palace fans and we boarded a train which ended up being full to the brim before departure. At least we had reserved some seats!
Before we knew it we arrived at Liverpool and headed to Liverpool fans' favourite pre-match venue, The Sandon. We had a few beverages and chatted with some Liverpool fans and I must say it was a pleasure to enjoy the warm and friendly atmosphere. Highly recommended!
We made our way to the stadium with half an hour to go before the match and once behind the stand were greeted by a mass of noisy and expectant Palace fans. After purchasing a Scouse pie I made my way to my seat and then struggled to eat the pie without a fork. Very challenging indeed although well worth the struggle!
The teams were announced and Julian Speroni was warmly welcomed back to the first team by the throng of the travelling support. The Liverpool fans in the Kop end then put up a magnificent display in tribute to the legendary late Bob Paisley in what would have been his hundredth birthday.
Kick-off then and in the early moments Liverpool are somehow awarded a corner after Van Dyke gets a shoulder to the ball which flies just over the crossbar. The Palace fans are incensed!
Palace then play very well to get the ball out of trouble and break quickly. Andros Townsend then neatly scores after some great work and pass across the goal by Zaha. 1-0 Palace and the away section explode with joy!
Mo Salah then gets some stick from the Palace fans after a fall backwards into a sitting position in the Palace box after a small tussle with Mamadou Sakho. The half time whistle blows and Palace are in the lead.
The second half gets under way and almost straight away Liverpool are back in it. A lucky deflection allowed the ball to loop over and fall to Salah who slots it past Speroni. Almost immediately after the restart, Liverpool get lucky again after a Firmino shot deflects off the Palace defence and evades Speroni, nestling in the far corner of the goal. 2-1.
Palace then counter and are awarded a corner after Jordan Ayew tries to pass the ball across goal. Now, Palace haven't been effective at corners recently although Luka Milivojevic despatches a delightful fast whipped ball in to James Tomkins' path and he makes no mistake. 2-2 and the Palace fans go wild again! Can Palace push on?
Well, what happens next is probably due to a bit of rustiness on Speroni's part. Fabinho makes a diagonal cross field pass to James Milner who gets a downward touch on the ball which then bounces up over to Speroni. The Palace keeper gets an unfortunate backwards touch on the ball and Salah makes sure the ball hits the back of the net. 3-2.
Palace are not done yet and go on the attack again. Wilfried Zaha is badly tackled by James Milner - yellow card. Jeffrey Schlupp then misses a header to the right of goal after the resulting free kick. Milner then manages to foul Zaha again and is sent off for a second bookable offence.
Mane then gets away with controlling the ball with his hand and passes to Andrew Robertson who then gives it back to Mane who then makes no mistake with a diagonal shot past Speroni. 4-2.
Palace then get a consolation goal after some good hold up play by Connor Wickham who lays it off to Max Meyer to dispatch past Alisson. 4-3 and not enough time left for Palace.
The final whistle blows.
The feeling among Palace fans was quite positive. On the journey home we discussed how well Palace played and that they just need to transfer the confidence and quality they have had when they play away to home matches going forward.
My son pointed out to me that Liverpool had only conceded 3 goals at home this season before this game. That tally has now doubled in just one match.
---
Email Jamesey with your comments to jevans3704@aol.com
In Depth Jamesey's Veteran View Index