January 28 2019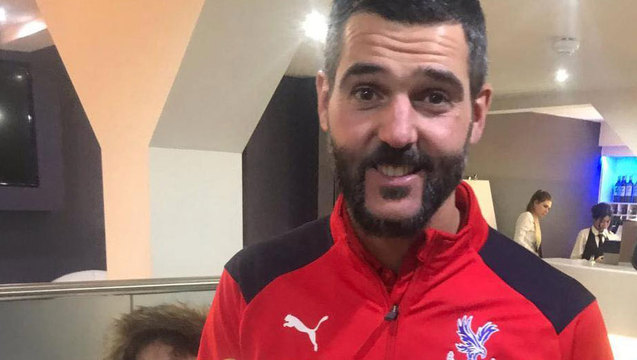 Would Palace ever manage to beat Tottenham at Selhurst? The answer was Yes, 2-0, as Jamesey and Wilf King happily discovered.
The FA Cup having been languishing in the backwoods for years is recovering much of its silver lustre, writes Jamesey.
On a wintry Sunday afternoon (Jan 27) Tottenham visited a well-attended Selhurst Park in Round 4 of the competition as one of a full weekend of fixtures.
Tottenham were, as usual, strong favourites, although the absence of injury-hit Harry Kane and Deli Alli did the home side's chances no harm at all.
The Eagles line-up looked very different to recent times and saw the start of Connor Wickham after what seems an eternity of injury set-backs. So the Eagles were playing with the formation that served so well in the past - a big greezer in the middle flanked by two wingers, now Wilfried Zaha and Andros Townsend.
Palace played with the customary and well-advised Roy Hodgson tactic of defend and counter-attack.
The first aggressive move into Tottenham territory saw Jeffrey Schlupp cross the ball towards goal and, bingo, Wickham kneed it in. Nine minutes gone and it was 1-0.
Better was to come later in the half when a careless Spurs hand-ball in the 34th minute was rewarded with a Palace penalty award.
The penalty supremo, Luka Milivojevic was on the bench, so in his stead Townsend walked to the spot and calmly banged it straight into the centre.
Much has been made at the lack of celebration on Andros's part in scoring against his old club. Andros explained that he was showing respect to the club which had nurtured him since boyhood. He owed a debt of gratitude to Tottenham for his successful career and that was that.
Personally I couldn't agree more.
The Eagles defended the 2-0 lead throughout the second period when, as one would expect, Tottenham really turned up the heat.
Lady luck hovered above Selhurst Park for this game and Trippier missed a penalty for the visitors, kicking wide of Julian Speroni's post.
Jules emphatically redeemed himself for a somewhat dodgy display against Liverpool the previous week, making two or three world-class saves. Nothing wrong with the old feller's reactions on this occasion.
All-in-all it was an extremely satisfying afternoon for CPFC.
As far as the rest of the season is concerned some league wins are vital to stay in the elite and, as I write, the draw for the fifth round of the FA Cup has given Palace a trip to Doncaster Rovers. Could be far, far worse.
---
A solid team performance
A football match is rarely about one person but on Sunday 27 January one man stood out from the rest at Selhurst Park, writes Wilf King.
Tottenham Hotspur had already been knocked out of the Carabao Cup and visited SE25 without their three best players. I was particularly pleased that Son Heung-min was absent as he usually scores the Spurs goal that beats CPFC.
The afternoon started differently as I was interviewed by Lionel Derimais for an article in Le Parisien Magazine about the effect Brexit would have on young European players joining English clubs and, of course, Crystal Palace.
I told Lionel that the club has a superb Academy where players, such as Wilfried Zaha and Aaron Wan-Bissaka, make it into the first team. My photo was taken by the Palace gates.
I was delighted that the Palace team against Spurs included Julian Speroni. I was at Anfield with Dan Crafter and Julian had a good game that day and, unfortunately, made one error of judgement but our loss to Liverpool was more about the two deflected goals and the obvious handball for the winner.
Julian has never let us down and he proved on Sunday that he is every bit the Legend we are still blessed to have. His historic 112th clean-sheet with a double save from N'koudou and a finger stop save to deny Llorente were typical of his performances over fourteen years with CPFC.
I am also giving Julian credit for the Trippier penalty miss at the end of the first half.
So back to my title; we were solid at the back, tenacious in midfield and lightning quick up top. Andros Townsend put in his normal shift and took our penalty with dignity.
How nice to see Connor Wickham celebrating his first goal after two years (or 799 days) out. I was forced to sit in Stephenson E after being expelled from Holmesdale Block E.
It was a new experience but the Holmesdale Fanatics were drowned out by the Spurs away supporters.
I am going to have to get used to hearing noisy away fans rather that the Palace choir. As a frequent away supporter I admire away fans who sing for 90 minutes even when they are losing and cannot beat Julian.
---
Email Jamesey with your comments to jevans3704@aol.com
In Depth Jamesey's Veteran View Index