March 10 2019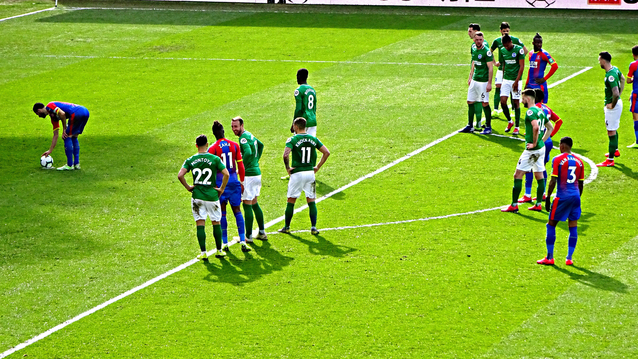 It was a blustery afternoon at Selhurst for the visit of Brighton. Jamesey buttoned up his overcoat for the hostilities, er, match, which was won by the visitors 1-2.
Well, we expect any fixture with Brighton (March 9) to be troublesome, but the numbers of coppers, coppers on 'orses, sniffer dogs and jobsworths in uniforms redirecting traffic and crowds, made the Selhurst area feel like Derry 1972.
Many older supporters like me find the Brighton rivalry a little hard to take seriously. After decades of extreme dislike against Millwall and Charlton, johnny-come-latelies like the South Coast outfit don't register high on my "hateometer". They're not even local but I suppose in the absence of any other candidates they'll have to do.
I said to a fellow supporter before the game that I hoped the Palace Away team not the Palace Selhurst team would turn up. In the event it was some of both.
After a superb 1-3 win at Turf Moor the previous week, it looked as though Palace might just about have reached a point where safety in the Stacksomoulah League was almost certain. But this was, of course, Palace.
Old Boy Glenn Murray, unexpectedly starting, got a deserved warm ovation - rightly so, for a once valuable and much-respected player at SE25.
The Seagulls made their game plan quite evident from the start when in the first minute a wild lunge from Anthony Knockaert on Luka Milivojevic nearly crippled the Eagles captain but the Frenchman was only shown yellow (one of a handful picked up by Brighton in the end).
Despite the robust tackling that a less lenient referee might have punished more severely, the South Coast team defended efficiently.
In a rare attack early in the game, a misjudgment by James Tomkins, allowed who else but Glenn Murray a chance which he took
skilfully, volleying the ball past Vicente Guaita. Brighton were a goal to the good in the 19th minute.
Despite his team-mates mobbing him like demented dervishes, Glenn had the grace not to celebrate. His dignity was apparently not respected by a certain section of the Palace support who hurled abuse and obscenities at full time.
The Brighton lead stood until a few minutes into the second period. It seemed as though there was no way through the Brighton blockade. Wilfried Zaha was constantly running up blind alleys while Andros Townsend and Michy Batshuayi were being cancelled out.
But eventually a trip on Townsend in the box couldn't be denied and the wonderfully dependable Milivojevic slotted home the penalty in the 50th minute.
From then on Palace looked the more likely team to score a winning goal but in the 74th minute, Knockaert, arguably lucky to still be on the pitch, struck a beautiful curler into the top corner and that's how it stayed.
Aaron Wan-Bissaka was one of the few red-and-blue players to put in his customary fine performance but Patrick Van Aanholt currently looks distinctly under par.
What a difference a week makes in football. After the jubilation of last week, losing yet another home game plus wins from strugglers Southampton, Cardiff and Newcastle, puts CPFC into 14th spot, only 5 points away from the dreaded 18th position.
Two of the games remaining are against current relegation candidates Cardiff and Huddersfield so must be counted as very "winnable". But then, this is Palace.
---
Email Jamesey with your comments to jevans3704@aol.com
In Depth Jamesey's Veteran View Index