March 31 2019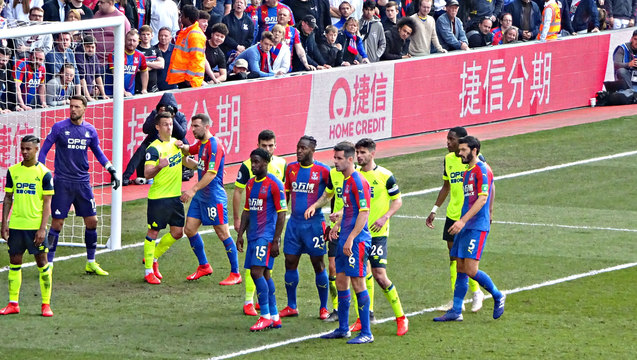 Tense times at Selhurst. Huddersfield faced the drop while Palace needed points to definitely avoid a similar fate. Jamesey was relieved to witness a scrappy 2-0 victory.
It was spring for a day in Selhurst but the balmy weather didn't reflect the anxiety of two sides struggling to stay in the elite league.
When Huddersfield last visited Selhurst in the opening day of the Loadsadosh League 2017-18, with a new Dutch boss, Frank de Boer newly installed, things looked good for Palace fans.
We now know, of course, that de Boer's disastrous reign was later terminated quickly.
Anyhow, it was a less-than-auspicious start for the Eagles, ending in a 0-3 thumping and I wrote in this column:
"Take a club [Huddersfield] who have re-entered the top tier after 45 years, only just scraped into promotion through the play-offs and were the bookmakers' red hot favourites for relegation.
"However, things did not go according to expectations when the Terriers had their own ideas of how the game would be played."
Back in the present, matters were quite different.
Palace have been flirting with relegation for the past six seasons and most realistic supporters have accepted that it's the way it will probably always be for a small club. Despite all the top tier money, high-calibre players who want medals and Euro-games are unlikely to get them here so the squad is always thin on talent apart from a handful.
Nevertheless a victory in this game would make survival almost certain for the Eagles but relegation for the Terriers.
The first half was frankly abysmal. Palace were clueless with misplaced passes and mistakes in abundance.
Huddersfield looked the better side and they played with more confidence and some world-class goal-keeping from Vicente Guaita twice stopped the visitors from taking the lead.
It was 0-0 at the break, and many of the normally quiet supporters near me were screaming abuse at Jeffrey Schlupp and Max Meyer as they left the field.
I was delighted to see James McArthur warming up ready to come on. Despite repeated criticism of Roy Hodgson's reluctance to act quickly, he did here and Meyer didn't reappear.
The second half was far better - McArthur for Meyer helped and Wilfried Zaha became far more prominent.
But it was much the usual story of gilt-edged chances missed and it is becoming too depressing to list them in every home game.
It took until the 76th minute for a trip on Zaha to gain Palace a penalty. Please, we prayed, don't let this be the one that Luka Milivojevic misses. He didn't.
A classy goal just before full time sealed the win when Patrick van Aanholt put the ball through the legs of Huddersfield keeper, Ben Hamer.
No laps of honour quite yet but surely with 36 points and seven games to play, the Eagles must be looking at a seventh successive season in what is seen as the world's top football league.
---
Email Jamesey with your comments to jevans3704@aol.com
In Depth Jamesey's Veteran View Index