April 4 2019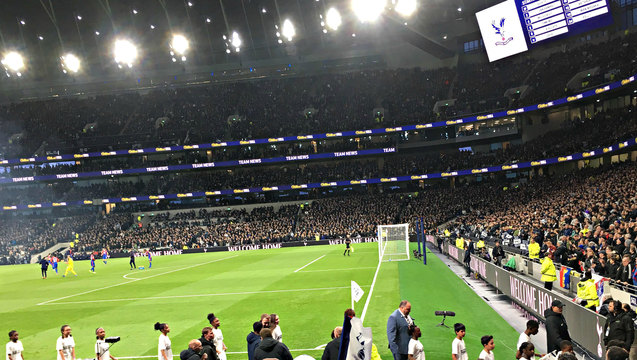 With all the shenanigans surrounding Tottenham's magnificent new home, would the Eagles give it a real go in the opening match? The answer was a definite "No" after a 2-0 defeat. Jamesey watched on screen while Wilf King headed into deepest North London.
Weren't Tottenham the lucky ones to meet Crystal Palace (April 3) in their opening game at their new stadium.
It must have been worrying that after a run of successive Loadsadosh losses Tottenham's debut game could have been a big anticlimax.
However, they were playing a team which made Huddersfield, the worst team in the league, look like Real Madrid in the first 45 minutes a few days ago (March 30) although to be fair the Terriers were relegated after the 2-0 defeat.
The Eagles continued in that Terriers first-half vein and seemed determined to bring joy to the home club and supporters on an auspicious occasion.
First, a sensible Palace supporter doesn't seriously expect his or her team to go away to one of the nation's top outfits and recklessly go in gung-ho and guns blazing. But surely a little ambition and demonstration of footballing skill would have helped.
Right from the start, the Eagles were dire, giving the ball away, passing to white shirts, allowing their opponents time and space to play and generally making it so easy for them. Danny Rose seemed to be in acres of space at times running unmolested down the flank to set up his forwards.
It was a minor miracle that the score was still 0-0 at half time. Tottenham were as profligate at wasting good chances as Palace at Selhurst.
There was little difference in the second half during which Tottenham scored twice - Son Heung-min and Christian Eriksen.
Surprisingly in the final minutes of the match, the visitors actually woke up and showed enterprise and even created some chances, the best of which saw sub Christian Benteke, in front of a gaping net, predictably head the ball wide.
However it must be said that even a 2-1 result would have been immensely flattering to the Eagles and unfair on the hosts. Wilf King continues below.
Jamesey
---
I was there
I have supported Crystal Palace Football Club for 60 years but I have never been to the opening of a new stadium nor attended the opening ceremony.
It was a privilege to be at the Tottenham Hotspur Stadium yesterday evening to experience the opening of a magnificent new London ground. After Spurs reportedly spent £1bn on its new stadium you should expect something special.
In so many ways Spurs new "Home" is spectacular both outside and inside. I thought the "Welcome to Crystal Palace FC" banner was a nice touch.
The facilities (although brand new) are exceptional.
Choice of food and drinks bars and all cashless; even the Souvenir Programme was cashless. When you enter into the stadium it is a WOW moment, just awesome. The 17,000 seat single tier South Stand is amazing and above it the Golden Cockerel.
The opening ceremony was vibrant and loud culminating in two singers belting out 'Glory Glory Spurs'. Forever, I can say "I was there".
As for the match, the less said about it the better. Roy Hodgson says "We played our part". If that means we rolled over I agree. One chance for Jeffrey Schlupp in the first half (which he fluffed) and the Palace players must have thought the Spurs penalty area was a minefield!
When the teams were announced I froze after I heard Son Heung-Min was starting. I was right to freeze for Son has gone down in history as the player to score the first Spurs goal at THS.
On 75 minutes the Palace faithful were screaming for Mr Hodgson to make a substitution and Andros Townsend was who they wanted. Why did it take four minutes to get him on the pitch?
Immediately Christian Eriksen scored Spurs' second goal and the match was lost.
Maybe one day our manager will make timely substitutions to change a game.
We were hoping Palace would spoil the party but it was 2-0 at the final whistle and a very happy Tottenham Hotspur Football Club.
Wilf King
---
Email Jamesey with your comments to jevans3704@aol.com
In Depth Jamesey's Veteran View Index