April 30 2019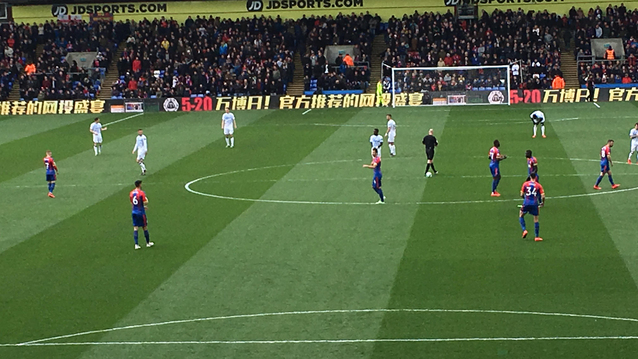 The wind did blow mightily at Selhurst Park which probably didn't help the sad spectacle. Jamesey was indisposed and watched on screen while Wilf King witnessed the 0-0 bore draw.
As the commentator on the stream I was watching sadistically kept reminding me - only Huddersfield have lost fewer home games this season than Crystal Palace, writes Jamesey.
On and on he went until I was close to chucking a nearby brass replica of Sir Steve Coppell through the screen. Only my self-control combined with parsimony stopped me as this frustrating match against Everton (April 27) dragged on.
But the sad fact had to be admitted. It was true and inexplicable in some ways.
Why does a side that can play so well and win games at some of the elite moneybags outfits seem unable to produce the goods at home?
Never mind, CPFC chairman Steve Parish for whom until recent times, I have always had the highest regard, has an unorthodox answer.
Move the the Holmesdale Fanatics a few metres to their left and their incessant noise, flag-waving and drumming will spur Palace players on to newfound heights.
Despite many neutral comments that Selhurst Park is the most intimidating ground in the English game to visit this has obviously not been the case in their current location (changing for the '19-20 season).
The only positive result of the club's eviction of hundreds of loyal and passionate season-ticket holders from their seats to make way for the HF has been the creation of a great cloud of ill-will and resentment from the displaced persons and supporters like myself who are totally sympathetic to their feelings.
Sermon over.
A lamentable home performance once again against Everton. Unable to keep the ball or even find a Palace fellow player for much of the game.
Wilfried Zaha was reverting to teenager mode and trying to dribble through four defenders when a pass would have been a good option while Christian Benteke seems to have degenerated into a player totally without any of the basic football skills.
Scott Dann and Martin Kelly constantly welted the ball high back to the Everton defence.
Only Vicente Guaita played a blinder, twice making world-class saves while at the other end Jordan Pickford didn't even have to bother with any saves at all apart from one straight into his body.
Pathetic showing.
---
What a way to say Goodbye
This was my last home match this season and after the excellent result at Arsenal I was optimistic that a game with Everton (who had thrashed Manchester United) would be full of goals, writes Wilf King.
What I fool I am!! It was my last match sitting in Block E of the Holmesdale as the club has ordered me to vacate my seat so it was kisses, cuddles and handshakes with the people who had become my friends over 22 years.
I have no idea where I may be sitting next season if at all (please refer back to "What price Loyalty?").
Anyway, you probably want to hear about the football offered up by Crystal Palace for my delight. THERE WASN'T ANY. One shot on target (which didn't make the stats as it went straight into Pickford's midriff - he looked quite shocked as he didn't have to move).
I thought I caught a glimpse of Patrick Van Aanholt booking his holiday flights with Lee Mason (Travel Agents).
Had it not been for a truly outstanding reaction save by Vicente Guaita towards the end of the second half the Toffees would have left with three points.
Roy Hodgson was "pleased to get a point at Selhurst Park".
For the record I wasn't pleased. Marco Silva had realised that if you snuff out Wilfried Zaha Crystal Palace rarely have a Plan B so every time Zaha got the ball he was surrounded by 3/4 Everton players.
Job done Marco.
As for 2019/2020 who knows?
---
Email Jamesey with your comments to jevans3704@aol.com
In Depth