May 13 2019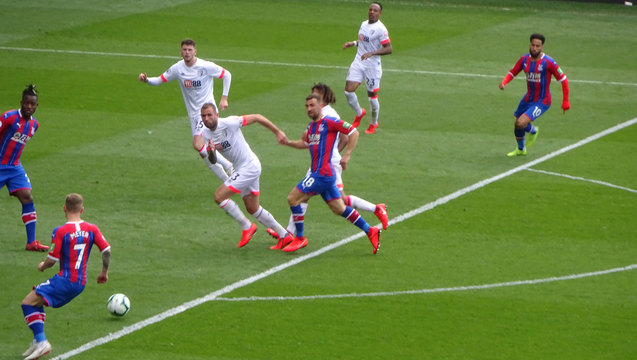 Unlike many Eagles home games this season, this one really was a grand finale with a 5-3 victory against Bournemouth. Jamesey still canít get his breath back after all those goalsÖ
There was nothing vital to play for, but Palace and Bournemouth both produced a goal-filled spectacle for supporters at the seasonís end.
If itís records you want, the Eagles celebrated a record points total of 49 with a record 7th season in the Stacksocash to come and a finish at 12th place. OK, itís not exactly the height of glamour but for us South London street kids thatís not bad at all.
Although the final score looks quite convincing, the Eagles, as ever, made us sweat after a barnstorming start. Within half an hour, two great poacher goals from Michy Batshuayi and an own goal, due very much to Wilfried Zahaís brilliance, put the home side up 3-0.
We long-suffering home supporters scratched our headsÖ were we dreaming? This was all too unlikely and out of context.
Just as it looked like the Eagles would be going in three to the good at half-time, Bournemouth pulled one back with a goal-of-the-month type strike from 30 yards by Jefferson Lerma. Palace keeper Vicente Guaita could only look bewildered.
Not long into the second period, the Cherries pulled another one back so what was looking literally like a stroll in the park for the Eagles had taken on an anxious atmosphere.
Nevertheless, Palace carried on with some excellent football and the Cherries responded with clever attacking moves.
After 65 minutes, Patrick van Aanholt, combining with the always-brilliant Wilfried Zaha, settled the home sideís nerves, making it 4-2.
But there was more to come in this twisting and turning match when the visitors scored again to make it 4-3.
Mouths were agape and chins were hitting the deck now. Selhurst Park was positively unused to this sort of drama. After a season of somewhat poor home games and few goals, such a rich feast was delightful but hard to digest.
Mercifully, Andros Townsend added a fifth on the 80th minute and made it safe for CPFC although it didnít seem so at the time.
And so a cracking good game and a victory rounded off Roy Hodgsonís first full season at the helm.
It was a season full of ups and downs (when isnít it in SE25?) featuring the customary near-flirtations with relegation but two terrific away wins against league champions Man City and Arsenal.
So a summer of speculation awaits concerning two of Selhurstís star players, Wilfried Zaha and Aaron Wan-Bissaka. Will they stay or will they go?
Wilf is 26 and if he wants medals and European adventures, he has to move now. Aaron says he wants to stay but if the right offer comes along and his agent is persuasive, he might well pack his bags.
It would be nigh on impossible to replace those two.
Sadly the club was also bidding farewell to two former servants Ė Julian Speroni and Jason Puncheon.
Only the extremely churlish would be critical of Jools although Punch draws more mixed feelings. In his early days he was a key player for the team but seemed to stray from his best in recent times. Being involved in nightclub brawls doesnít endear a player to the fans either.
But this supporter wishes the best of luck to both of them and happiness in whatever paths in life they choose to take.
---
Email Jamesey with your comments to jevans3704@aol.com
In Depth Jamesey's Veteran View Index