May 19 2019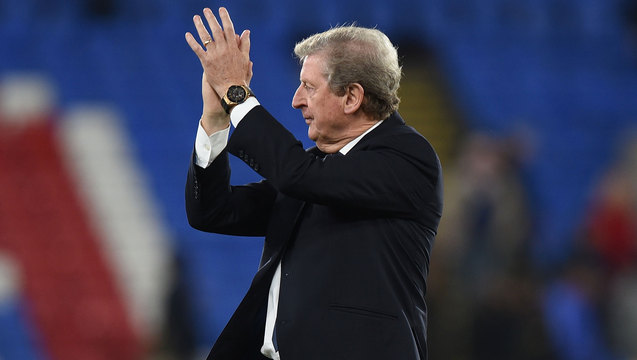 Despite complaints from some ridiculously over-expectant supporters, the Eagles finished the '18-19 season in a satisfying 12th place. Jamesey looks back over the twists and turns.
The season ended, just as it had started on a high note with a sparkling 2-0 win at Craven Cottage, although it was bad omen for Fulham who were to take the drop the following May.
Remembering that Roy Hodgson had been brought in early in the '17-18 campaign to save what was almost universally believed to be a sunk, rather than sinking, ship after Frank de Boer's disastrous start, to finish in 11th place was quite remarkable.
How would Roy fare in his first full season at Selhurst? In mid-August, it looked promising.
But despite a League Cup win against Swansea City, two consecutive league losses saw the Eagles reach September and lose at home 2-0 to a poor Southampton side. That made it three defeats in a row and at 15th place, CPFC was not too far from all-too-familiar relegation territory.
A win against Huddersfield away brightened everyone up but a tedious goalless draw at home to Newcastle saw the start of a worrying trend that would continue to haunt performances for the rest of the season. Mamadou Sakho missed an open goal at point-blank range and a chance to win the game was squandered.
A 3-0 away win against West Brom saw the Eagles reach the last-16 of the Thingummybob League Cup (no, I can't be bothered to look up the right name) but more defeats followed until a home draw against the Arsenal cheered up Palace supporters.
Defeat at second-tier Middlesbrough brought cup hopes to an end but losses to Chelsea and Tottenham saw CPFC sink to 16th, the low point of the season.
After a turgid 0-0 draw at Old Trafford a chink of light pierced the gloom with a 2-0 home win versus Burnley.
Unbelievably, long-suffering fans had to wait until the Clarets game in early December to see the red-and-blues score their first goal in open play, somewhat fortunately after what appeared to be a misdirected centre from James McArthur beat keeper Joe Hart.
Two more defeats kept the Eagles hovering near the relegation zone until the visit of Leicester City to Selhurst. An unlikely 1-0 victory was down to a lovely strike from Luka Milivojevic who was to become the undisputed penalty king of the Stacksocash League by the following May. It was ugly but beautiful for Eagles fans.
The next match saw the biggest shock of the entire season when the Eagles beat the almost invincible Manchester City 3-2 at the Etihad.
City played their customary keep-ball game but somehow the Eagles created a 3-1 lead. De Bruyne grabbed one back and all Palace fans prayed that the Citizens wouldn't equalise late on. They couldn't and gave the visitors a real cracker of a Christmas gift.
The New Year approached and the usual hatful of missed chances resulted in a home 0-0 draw with struggling Cardiff City followed by a season's double defeat to Chelsea.
The first game of 2019 saw a visit to the Molineux and a 2-0 victory against Wolves which maintained the Selhurst team at 14th, far enough from the bottom three to ease relegation anxiety.
January, of course, sees the Big Boys enter the FA Cup which seems to have gained much more allure recently after a period when nobody seemed very interested at all.
A Cup win at Grimsby was followed by two league defeats by Watford and Liverpool but a fourth round win against Tottenham was greeted with delight and ended the Spurs home defeat hoodoo.
A wintry February brought two home London derbies – a home 2-0 win against doomed Fulham and a 1-1 draw at West Ham, the latter of which should have been a win had the Eagles not spurned so many easy chances.
After another FA Cup win against Doncaster Rovers, Palace visited the King Power stadium and did an emphatic double against the Foxes. Goals from Michy Batshuayi, a brace from Zaha and one from Luka, the penalty maestro brought a 4-1 victory.
A disappointing 3-1 home defeat to Manchester Utd was followed by an excellent 3-1 away win against Burnley. Chelsea loanee Batshuayi scored again and could we dare hope that the club had found a striker who could actually strike?
However a couple of unpleasant results were yet to come when Brighton came to SE25 and did the double with a 2-1 win, one of the goals inevitably scored by Old Boy, Glenn Murray.
The bitter taste left after that wasn't alleviated by being booted out of the FA Cup by Watford who seem to have become a malicious rival. Did it all go back to Palace's play-off victory at Wembley in 2013 when a foul on Zaha earned a penalty which saw Palace win promotion? Probably yes.
Tottenham's majestic new home saw none other than CPFC as first league opponents. The Eagles put on a dire performance and played as though they intended to let Spurs have a historic 2-0 win to open their new era.
Early April and an away visit to Newcastle saw yet another Luka penalty gain three points in an ugly encounter but when you're desperate for points for elite survival, who cares? With 39 points it would take a mathematical improbability to be relegated now.
High-flying Man City came to SE25 as the season reached the final strait and thoughts of that amazing 3-2 victory in December were on many Eagles supporters' minds.
This game went according o the form book with City notching up a 3-1 win and totally outclassing the home team. No disgrace there as they did a similar thing to many other teams on their way to the league championship.
The next game, against another of the Big Guns, would spring another massive surprise with the visit to the Emirates. Palace notched up another away victory against Arsenal which, along with the Etihad result made it the second high point of the campaign.
An uninspiring 0-0 home result against Everton was a poor spectacle but after that Arsenal triumph and the knowledge that CPFC was set for a 7th successive season in the top league of English football, it brought a palpable atmosphere of relief and relaxed enjoyment to Selhurst.
The Eagles saved one of the most enjoyable efforts of the season till last when Bournemouth came to town although supporters were made to bite their fingernails in the second half.
Three first half goals made the match look literally like a stroll in the park although a wonder-strike from the Cherries made their task less daunting. When Patrick van Aanholt made it 4-2 surely the game was in the bag? Oh no it wasn't. It became 4-3 but a fifth from the home side finished it off.
So, on May 12, there it was. Three wins and a draw in the last five games meant another 10 points and CPFC ended in 12th spot with a club record of 49 points.
Perhaps that late burst makes it look more comfortable than it really was after some disappointing results and performances earlier on?
As far as this supporter is concerned, it is a creditable result and for a club where the spectre of relegation is never too far away, it is a reason to be cheerful.
While this round-up was being written Wilfried Zaha became available for transfer. Surely no reasonable supporter could deny him the opportunity, at the age of 26, to move to a club with more chances of silverware and European adventures?
No one is indispensable but to replace Wilf would be a massive task however much cash is gained from his sale. We shall see.
---
Email Jamesey with your comments to jevans3704@aol.com
In Depth Jamesey's Veteran View Index