August 11 2019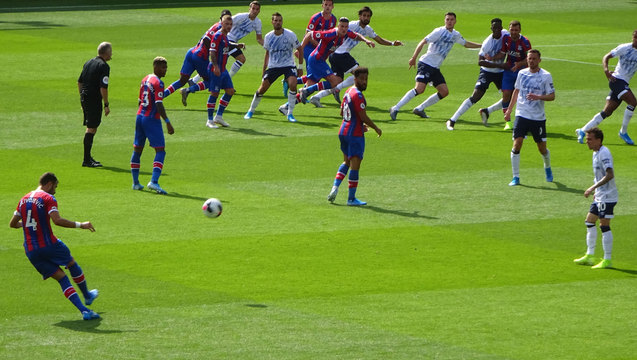 The Eagles hosted Everton in Palace's seventh successive season in the top tier. The 0-0 result was far from boring, as Jamesey reports.
It was a lovely day and my step was sprightly as, with bags of time to spare, I presented my season ticket at one of the Arthur Wait booths.
It was rejected. Oh no, I had been fearing this might happen for years as I don't trust "reactivations".
A steward told me to go to the Box Office who then redirected me to a long queue for "match ticket collection".
Eventually a young lady checked my season card and told me it had been blocked, my seat had been changed and I should have received a new card in the post.
I hadn't of course so she printed me out a paper ticket for the game. This was getting really mysterious
An immediate nervous breakdown was avoided and my seat was there but the row number on my season card was different.
The truth suddenly dawned on me. My seat and row number had been changed three years previously due to expansion of the disabled area and I had stupidly fished out my old, identical out-of-date card from a used collection.
My fault entirely and for anyone who isn't sure whether I am a complete idiot or not, that should confirm it.
More importantly, the big talking point at SE25 during the summer transfer jiggery-pokery has been the "will-he-or-won't-he?" matter of Wilfried Zaha's future.
Initially Wilf had given two reasons for a transfer – to play for a bigger London club and stay with his family, plus the opportunity to play in Europe.
In the end, Everton were the only club left in the bidding so Wilf's desire to stay in London was obviously not a goer and playing in Europe wasn't that much more likely than staying with CPFC.
When Wilf's name was announced as a substitute there was no animosity from supporters and there were actually calls for him to come on in the second half and a massive cheer when Roy Hodgson eventually concurred.
For a team, often unjustly called a "one man band", the Eagles played well without him, considering Everton have been making massive investments in new players, possibly grievously stung by their red rivals' success in Europe.
Roy picked a dual striker force of Christian Benteke and Jordan Ayew, with Max Meyer as a roaming opportunist. All three looked very useful indeed.
Many worries about the continued absence of Mamadou Sakho and James Tomkins were calmed by the accomplished defending of Scott Dann, Martin Kelly and Joel Ward.
Only the anticipation of Everton's England keeper, Jordan Pickford, stopped Ayew and Meyer from scoring in one-on-one situations but the Toffees created many good chances and drew the best out of Vicente Guaita.
Possession is a statistic which draws differing views. Some say that possession means nothing, it's what you do with it that matters. However, this supporter finds it worrying that a home team can only muster 35% possession as was the case here. Surely in front of a voluble and supportive crowd a home side should keep the ball much more than that?
Little niggles apart, a 0-0 draw against a highly-rated team is reasonably satisfying. What a shame that the five-goal blitz against Bournemouth last May didn't signal the start of an era of goals galore, especially after an Everton sending-off gave an advantage.
But there is more talent to choose from and the manager has some interesting new signings to use as the season continues.
---
Email Jamesey with your comments to jevans3704@aol.com
In Depth Jamesey's Veteran View Index