August 19 2019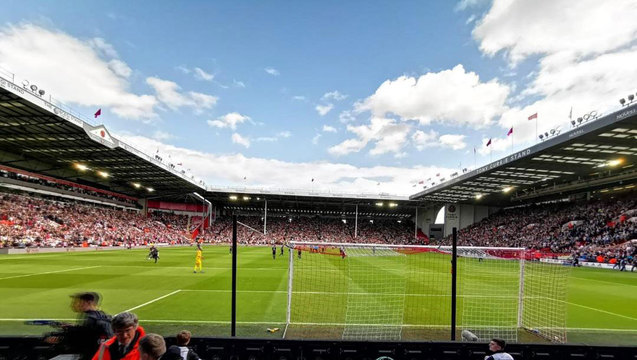 Palace headed for Yorkshire for the seasonís first away fixture. Jamesey watched in London, while Eagle Stew travelled up to Bramall Lane to witness a 1-0 defeat.
After the tepid showing against Everton last week, we all hoped for something a little better against newly-promoted Sheffield United, writes Jamesey.
Nowadays Palace are usually very ordinary at home but inexplicably have a strong record as away specialists. Away specialists? In my dreams, after this affair.
The away team looked self-assured and confident to start with, keeping possession, passing to team-mates, and generally looking good.
But then, as I sat on my living-room sofa, something strange was happening. I was drifting off into a dream and transported to a different time. It was two years ago in August 2017 and Frank de Boer was Palaceís new manager, full of new theories and plans to change the Eaglesí style of play.
On the field, Mr de Boerís theories were not translating themselves clearly to the team.
Wilfried Zaha ran around, attempting to beat two or even three players when a simple pass would have been more constructive.
Joel Ward was particularly inept and the opposition consistently outplayed the home defence.
Christian Benteke stood around, waiting for something to happen. It wasnít going to unless he actually moved.
Palace team-mates constantly misplaced passes and seemed unsure of their own roles or the roles of anyone else.
I awoke with a start when Mrs J banged down a cup of coffee and I was relieved to know it was a dream.
But as the second half continued and the home side scored the inevitable goal the reality was even worse.
To be strictly fair to the Blades, it wasnít just the fact that the entire Palace team were having a bad day. The Sheffield players stuck to their game plan and completely blocked off Wilf and Andros Townsend. So that was most attacks stifled.
Joel Ward, Martin Kelly and Scott Dann are all good and solid professionals but oh how we miss Aaron Wan-Bissaka, James Tomkins and Mamadou Sakho. Two injured and one gone for good.
It was a dismal display which we all hope was a mere aberration and all will be well again soon (Fingers crossed and hope to die).
---
Most people had Sheffield United written off and in the three to go down, writes Eagle Stew.
If they play with the passion and desire they had in this game for the rest of the season they will be fine.
My mate Joe and I travelled up to Sheffield really looking forward to this Palace away day. We had the sixth best away record in the league last season. Surely we will get something from this one?
My first ever football match was the famous 'Hopkin looking to curl one'. Nostalgia of that day in '97 got me very excited for this fixture. A trip up to Yorkshire to see the Eagles take on the Blades was a must and I couldn't fault the day out.
Sheffield United fans have to be amongst the friendliest fans I've met. But as for Palace, well there's not much to write about really.
Our only outlet seemed to be Zaha whose body language told a thousand stories throughout and after the game. We lacked creativity and ideas going forward and every time we got the ball the opposition were on to us. Sheffield United worked hard for 97 minutes, and we had nothing in reply.
By half-time we should have had something to show for our efforts. Palace controlled the ball nicely in spells and got forward well, but couldn't find that through ball and shooting opportunity due to a resilient Blades defence.
As soon as they got their goal just after half-time, we all knew we were in for a long second half slog, but nothing materialised.
Looking for positives from the game is difficult. James McCarthy looked spritely and determined when he came on. It was good to see Jeffrey Schlupp back in the team but that's about it if I'm honest.
It's going to be a long season for Palace. I believe Roy needs to install some fresh ideas and utilise the new personnel in the squad to get the best out of the team.
As for my nostalgic trip to Sheffield, I had a good time and Joe and I met some great Sheffielders in the local pubs after the game. I think this away day is a must for all in future seasons.
---
Email Jamesey with your comments to jevans3704@aol.com
In Depth Jamesey's Veteran View Index