August 26 2019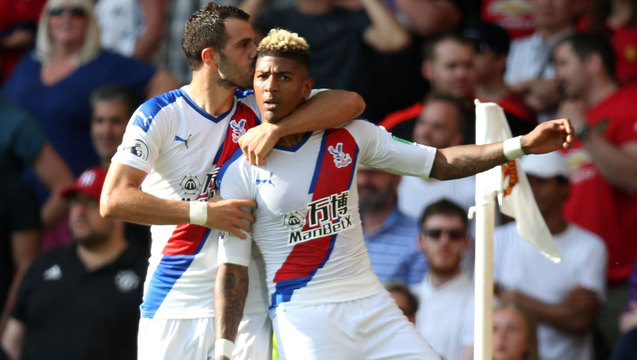 What a memorable victory for Crystal Palace against Manchester Utd. Jamesey was on boozer-watch while Wilf King travelled to the "Theatre of Screams" where a 2-1 Eagles win sent supporters home happy after 30 years of hurt.
OK, I'll confess before I even start. I had the gravest doubts that we stood a ghost of a chance at Old Trafford (Aug 24), writes Jamesey.
Our miserable efforts against Sheffield Utd, with no brilliant right-back, an apparently disinterested WILFRIED ZAHA and a distinctly below-par performance from the rest of the team, gave little room for much hope.
But after a few minutes the difference in attitude, performance and competitiveness soon signalled that these boys were a different proposition.
We are accustomed to playing on the counter-attack and did so with great effect to the puzzlement of the Red Devils.
Big revelation was Jordan Ayew who was demonstrating a master-class in the lone striker role. At just over the half-hour Jordan put the icing on the cake when he ran forward onto Jeffrey Schlupp's clever flick and coolly directed the ball past De Gea's outstretched fingers, scoring with the visitors' first attempt on goal.
We hoped Christian Benteke was learning from his bench view. This is what strikers are supposed to do.
Despite the efforts of the red shirts and several near things, the score was kept at 0-1 when United were awarded a penalty. Marcus Rashford hit the post and the Eagles breathed again.
With a minute to go till full time, Daniel James, one of United's talented bunch of kids, lifted the ball above Vicente Guaita into the top corner. It was 1-1 and dreams of a famous victory were disappearing.
But Palace aspirations had almost faded when, a couple of minutes later, Wilf combined with Patrick van Aanholt and the full-back squeezed the ball in at De Gea's near post.
A crafty old fox of a manager, a battle-hardened experienced team and a big dollop of luck. Result: a famous victory that will be long-remembered.
This writer was disappointed by Utd boss Ole Gunnar Solskjaer's post-match whining. I always had a grudging admiration for his mentor Sir Alex but to whinge about penalties you should have had (despite ref and VAR rulings) would have been beneath his contempt, especially when you can't even score when you've been awarded a spot kick.
---
I am having difficulty knowing where to start. I could have suggested "What a difference a week makes" but I knew there would be a reaction from the Crystal Palace players after Bramall Lane, writes Wilf King.
As it was to be my 74th birthday on Sunday 25 August, I had been telling friends a win at Old Trafford would be the perfect present; indeed I was the ONLY supporter on Coach 1 from Selhurst Park who thought we COULD win.
We arrived at 13:45 and Eagle Stew asked if I wanted a beer!! On being greeted by Stew he said "Look whose over there in the pink T-shirt". Neil Shipperley. What a lovely bloke. Chatting with fans and not hesitating taking part in 'selfies'.
The away support was already buoyant and I was delighted to see that Gary Cahill and Jordan Ayew were in the starting line-up. Stew and I are big supporters of Jordan so already I was feeling hopeful.
After about 10 minutes I asked myself: "is this Manchester United?" as they had not had a shot. Immediately they had a great chance which Patrick van Aanholt blocked on the line.
So come the 32nd minute and a long ball out from Vicente Guaita knocked on by Jeffrey Schlupp to Jordan who expertly rolled the ball passed de Gea. Jubilation in the away end with chants of "Champions League, you're having a laugh"
Manchester United had 80 per cent possession but I always maintain its goals that count. So come half-time and Palace are leading 1-0.
One always has to remember that this is the Theatre of Dreams and in the second half the inevitable happened, a MU penalty. At last the Manc fans had something to sing about! Up steps Rashford and MISSES - this will be our day after 28 years.
This seems the right place to mention that our back line were heroic and although various United players were launching themselves onto the pitch in the box nothing was happening. Step up Daniel James for a cracking goal on 89 minutes.
My mood changed slightly but there was five minutes of added on time. United sensed a late winner but our heroes provided the coup de gras.
Christian Benteke took the ball off Pogba, passed it to Patrick, on to WILFRIED ZAHA, back to Patrick and through de Gea.
OMG!! We've done it and got that bogey off our back. We are only the second team in the history of the Premier League to beat Manchester United in the 90th minute at Old Trafford; I do hope Alex Ferguson was watching.
You have to be at these sort of away matches to experience the joy on the faces of real Palace fans. Even Neil Shipperley was smiling! The only thing I disapproved of was the booing of and chants directed at Aaron Wan-Bissaka who had a poor game.
It is inappropriate for me to award a Man of the Match because ALL the Palace players deserved it. As I climbed the stairs Neil smiled at me and said "some birthday present".
What a glorious day.
---
Email Jamesey with your comments to jevans3704@aol.com
In Depth Jamesey's Veteran View Index